Customization in SaaS: What you should know
SaaS or Software as a Service has one of the core fundamentals in serving as many customers as possible. That is the reason why it is becoming so widespread and famous today. Customers are happy because vendors are giving them all. From better security, workflows, and features to availability of service. An aspect no more limited to more prominent companies. In our previous discussion, we have always helmed the customization in SaaS as a winning aspect. And this is the flexibility we are going to unfold today. In respect of your business.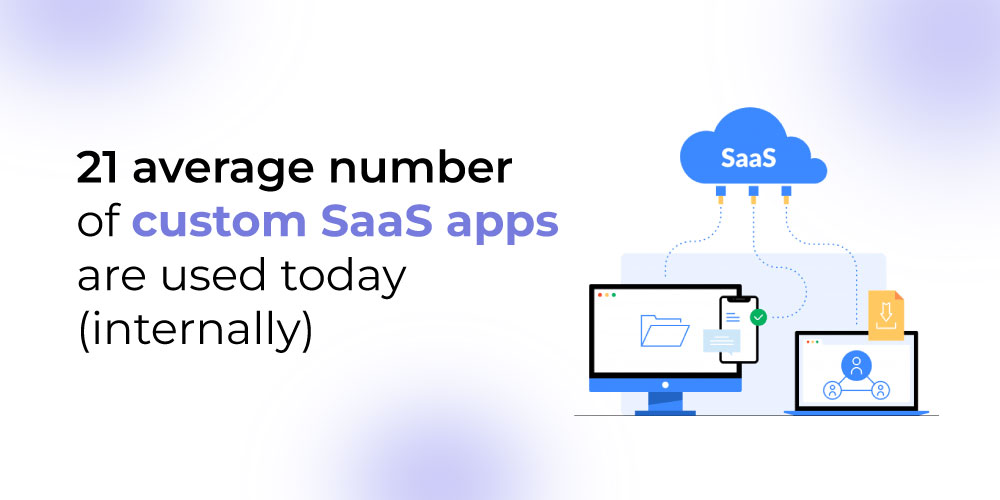 In simple terms, customization in SaaS is a process via which a software application is molded as per the business needs. The focus lies on addressing specific issues relating to the business. So before we take this discussion any further, here's looking at what's to unfold.
When should you go for customization?
Customization isn't an easy process. (More of which is yet to come) Therefore, it is vital for you to understand and identify its very need. So if your present solution:
Is no longer able to support you
Or you are not able to look for a better-suited out-of-the-box solution,
Customization becomes your go-to solution. Only then do you get the right competitive advantage you seek for your success. Since the solution will be unique to you and your business.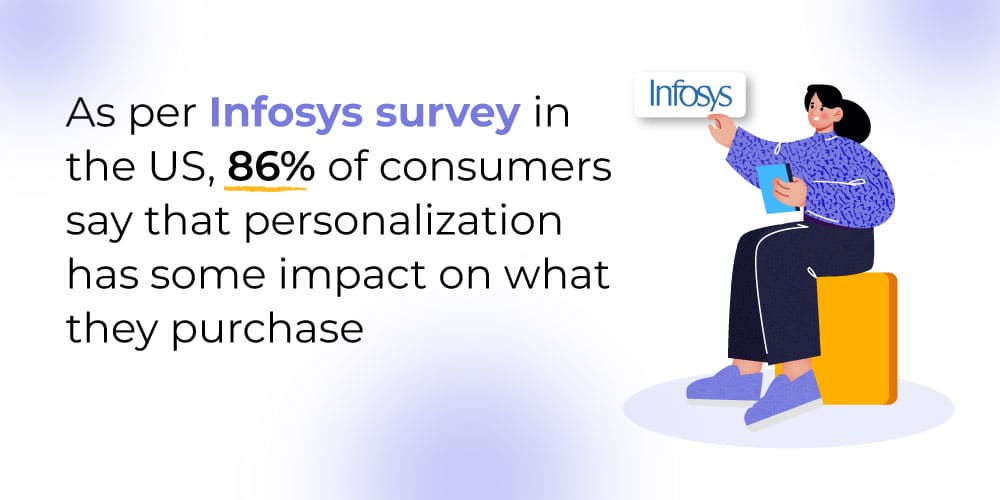 Moreover, a better-customized solution will help you improve productivity, reduce inefficiency and smoothen operations.
The importance of customization
Now, coming to the why. Because answering when is not enough anymore. You need strong reasons to invest in the process. Customization is a boon with SaaS. It eases a lot of hassle for you:
Customization allows you to scale your business efficiently,
And customization helps in your need for expansion. You are not tied up with software constraints and policies. You grow at your pace. Once your business starts to expand, with customization, you attain stability and ease.
A lasting solution for returning problems,
A custom solution addresses the exact pain point causing trouble. Moreover, it automates routine processes. So that you get to better focus on the bigger picture, say on market insights, exposure, and scalability when you need them.
Compliance with organizational processes,
One of the biggest reasons to opt for customization is that it doesn't let your ongoing process deviate. The goal and processes remain as is, only enhancing with the customization. Your priorities don't get hampered, and there's not much beating around the bush for delivering your core.

Learn more on SaaS with Beginners guide to understanding SaaS

The considerations for customization
But opting for customization has to be very careful. Because one unmeasured step and it will tangle you in processes. So once you know why and when you should go for customization, the 'how' to customize comes next. For this, you must access the following essential factors:

Integration
Any modification you seek for the SaaS application must be viably integrated within the framework. Given the fact that the change is too complex.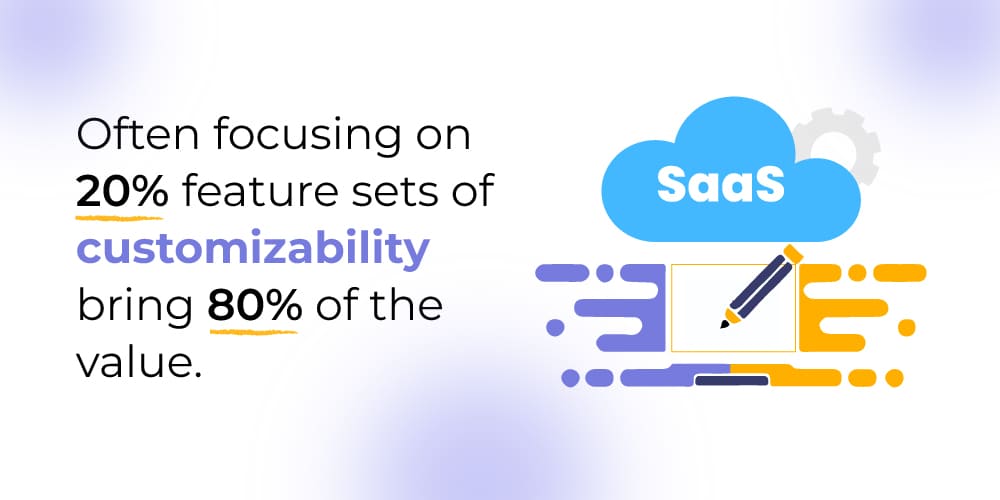 Complexity
Again, the complexity factor of the required modification plays a considerable role. If the intricacy cannot be handled with any other means, then step onto the customization.
Benefits of SaaS customization
With SaaS services catering to target users are efficiently enabled. But it addresses common needs. For uncommon needs, customization in SaaS business stands as the answer. It gets specific, more focused, and rewarding. But what are the core benefits to draw out of it?
Let's find out.
For Clients
We have spoken about scalability. When your company opts for expansion, it is also required to scale the product. The process becomes expensive otherwise. But when the customization option is undertaken, product scaling is trouble-free. Letting clients have more.

Customization is one segment where clients feel complete ownership of the solution. They are regularly in the loop, updated with the progress, and can decide the next course of action.

They adhere to the already set standards for the business process. Product customization, therefore, does not hamper what's already existing.

It is designed to be made 'fit-to-use' for the clients. Often a SaaS solution may not sit well with the proposition. But if employed with customization, clients can always seek help.

Adopting a customized solution is easier because it keeps the client's needs in mind.
Also read: Why you need SaaS today?
For Vendors
Customized solution gives an edge over other in the market. They stand a chance of being ahead of the competitors.

A customized solution for clients also ensures a better customer retention span. They stay for the good.

Since customization answers the specifics, customer satisfaction is made visible and possible for the vendors.

Your customers offer you loyalty in return for the solution that is a perfect fit for them.
This has so far painted a promising picture for you. Hasn't it? But before you dive into its nuances, you must know how and what can go wrong.
Disadvantages of Customization
The disadvantaged list isn't long. But important for you to consider.
First and foremost, customization is expensive. There is no room for a demo as such. And the initial cost is pretty high.
It is very time-consuming since installation, layout preparation, and configuration takes a reasonable amount of time. Businesses looking for quick solutions might find it hard to adjust.
Steps to identifying underlying challenges
When deciding on customization, you must know that challenges are bound to face you. So make sure to read them well. The following steps will help improve the challenges and minimize the effects of disadvantages.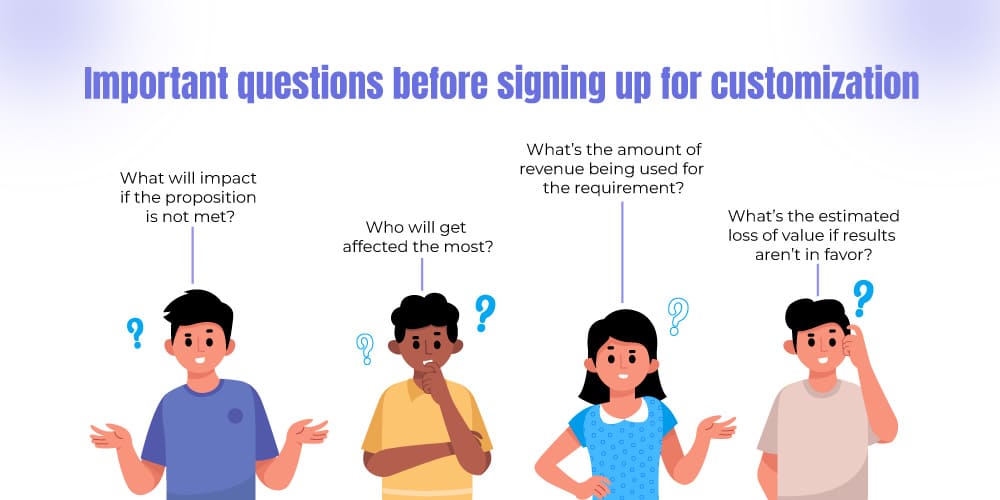 Whenever deciding on customization, you must follow the best practices of the product and platform. Because the customization has to be in accord with that.
Ask important questions before signing up for customization. Some of which should include:
What will impact if the proposition is not met?
Who will get affected the most?
What's the amount of revenue being used for the requirement?
What's the estimated loss of value if results aren't in favor?
Ensure to submit your customization request to your provider. Your needs must be well communicated to make you better prepared for challenges.
Thorough yourself with the product roadmap shared for customization. This will prepare you better if you want to go on or not take up customization.
You should very well work on your design plan to undertake any customization. Because the customization has to fit into your plan. You should be well aware of all the design intricacies.
Take accountability for the user experience changes. Since customization will affect that. So address them first hand.
Conclusion
With that, we take a halt on the subject. And leave you with the thought of always considering your organization's growth, overall expenses, cost, and route of development whenever opting for customization in SaaS.
Because the choice you make should solve your problem and adds to your unique needs. And remember, customization shouldn't come at the cost of workflow's simplicity. Therefore, think twice before taking extremes. Striking a balance with customization is all you need.

Apart from this, if you wish to connect with us or share your suggestion/s or queries. We are here to hear from you.