Beginners guide to understanding SaaS
The world of SaaS is here to grow. And if Mckinsey reports are to be believed, by 2024 SaaS products will be worth around $200 billion! The concept of SaaS was birthed back in 1961. When John McCarthy, a computer scientist shared the idea during his speech at MIT. Although it took nearly 30 years for SaaS to materialize in the late 1990s. This brings us here to share its basics and identify its growing pace. Here's to the beginner's guide to understanding SaaS.
In the following blog post, we have uncovered the pillar ideas of SaaS. That will follow post this overview.
What is SaaS?
What are the benefits of SaaS?
Are there various types of SaaS?
How to build a SaaS product?
What is SaaS?
SaaS or Software as a service is a way to use and deliver cloud-based applications over the internet. Accessible through browsers and mobile applications it focuses on cloud-based software creation.
To further simplify your understanding, it is software served over the internet via the internet. Where you are free of software installations or extensions. Since everything is right up the cloud, safe and secure.
A simple word definition to put for SaaS. But it is of course a lot more. Software as a service has earned patrons around. A vivid example of it is here in its growing graph.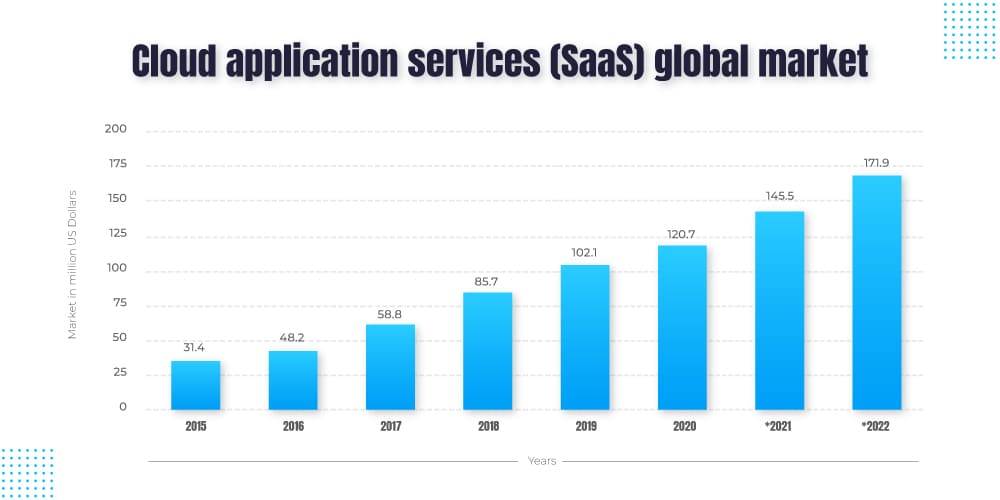 SaaS is an approach for accessing internet applications. Where everything is placed in remote cloud storage. And made available to you over the web or API (Application Programming Interface).
Unlock your career in SaaS!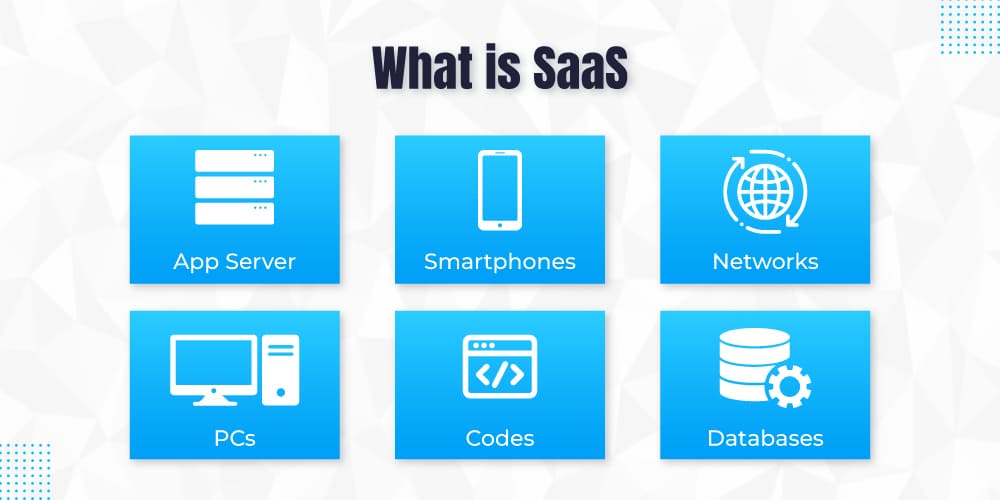 Also, note that these services are stored in the providers' (also known as Independent software vendor) servers. Where the provider holds control and access over:
Protection
Operation
Access to software
And the application availability
Commonly heard or found names like on-demand software, web-based software, or hosted software are also referred for SaaS.
An easy example to understand SaaS is the use of emails and office tools. A SaaS product is also something that needs regular updates and management after its release.
It is one of three main cloud computing categories alongside IaaS (Infrastructure as a Service) and PaaS( Platform as a Service). But SaaS is more like I said, this is just a simple overview. Many organizations today are SaaS-based. A description to which follows next.
So then, what is a SaaS company?
A SaaS-based company or organization is based and focused on the creation, development, maintenance, and hosting of exclusive Software as a Product or products.
A few examples of SaaS organizations are:
Google, its applications like Sheets, docs, meet, and the like.
Shopify, for e-commerce
Slack, video and audio calls, and internal communications.
Adobe creative cloud, with tools like photoshop and creative suite.
HubSpot, for their CRM (Customer relationship management) solutions.
And many more such companies are out there making use of SaaS for their everyday business. But why SaaS? What does it offer that's lurking all of them around it? Let's find out next.
What are the benefits of SaaS?
SaaS products come with tons of benefits/ advantages today. Like:
Hardware acquisition cost is eliminated completely-
Since nothing has to be installed in your own system for running an application.
Automatic updation-
SaaS providers work round the clock to keep the product running smoothly. Thus, the baggage of updating these is also warded off.
Customization-
An impressive advantage of SaaS applications is, they are customizable.
Accessibility-
Since the application is available 24/7 across the web. It is highly accessible around the globe.
Scalability-
SaaS is non-restrictive. That is, you can adapt it to the changing size and requirements of your consumers.
High device compatibility-
We have already mentioned the accessibility benefit. And along with it comes device compatibility. Since these are based on the web, their device compatibility is a must for better access.
High-rated security-
With SaaS, you store your business data across many safety pockets called data centers. Which are accessible o you in case of data loss.
Cost-effectiveness-
SaaS nullifies the additional hardware cost and promotes flexible payment methods like pay-as-you-go.
Brings long-lasting revenue-
The revenue comes in regularly for app owners and is stable.
Easy market penetration-
SaaS does not hinder growth and reach. It is one of the most sustainable models to enter a growing market.
The list of benefits/ advantages is a wide-lens view of SaaS, but we have been talking about SaaS. It looks intangible at the moment, but it has more tangibility. Let's look at the types that are available for the SaaS model.
Are there various types of SaaS?
SaaS comprises two types of models.
Horizontal
Vertical
Horizontal SaaS model
Is suited for big businesses. That need to handle a large customer base from varied industries. With better suitability to bundle and expand their offering. For example, Google Meet and Microsoft Teams.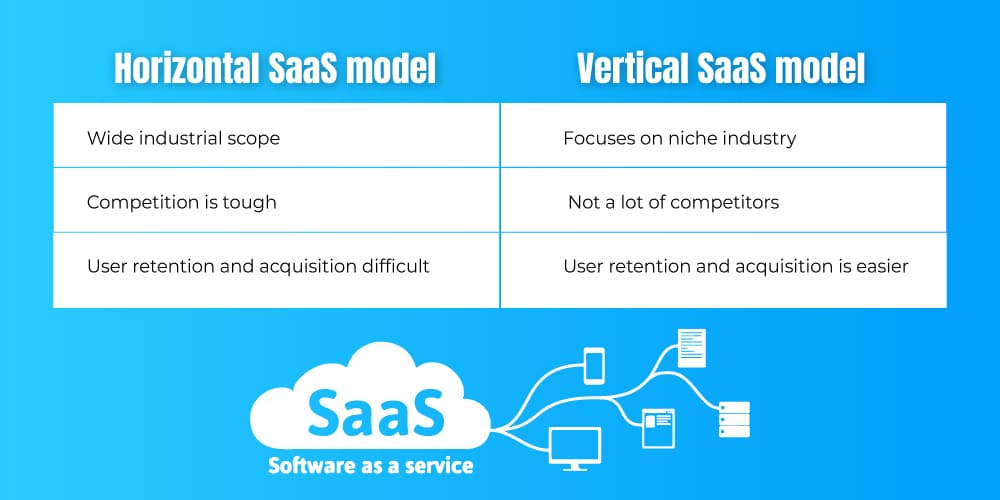 Vertical SaaS model
Is focused on a niche or target industry. Where the focus lies on developing the target industry's verticals and addressing their pain points. For example, Retail, Insurance.
Apart from the model, there are notable categories under which the SaaS products fall. Namely:
Collaborative SaaS: Team collaboration is achieved by ensuring vital means of internal communication like video conferencing and messaging. Along with documentation support. An example of this would be Zoom.
Packaged SaaS: Is focused on managing a specific process within an organization. Say market retention or employee engagement-like tasks. An example of this type would be Hubspot.

Technical SaaS: Responsible for the improvement and management of technical processes. An example here would be Cloudsponge.
But that's about the models and categories. The market is brimming with SaaS products. Are there types in that too?
Reading further on the subject, I discovered the following types of SaaS products:
Customer Relationship Management
CRM software is designed to help build marketing strategies and develop customer relations for businesses. Like HubSpot.
E-commerce software solution
Needed by retailers to manage their online products, inventory, and management essentials for the store. Examples of such products include Shopify, Magento, and many more.
SaaS marketing tools
Used by organizations to track business success. Along with the creation of marketing strategies and campaigns.Like Semrush and Google Analytics.
Project management software
That helps in task tracking, assignment, and project tracking and lets companies manage workflow. All while working in a shared space.
Enterprise resource planning or ERP software
Elaborated and complex solutions helping businesses manage multiple business processes. The example includes Oracle and Microsoft Dynamics 365.
There can be more to the list and this is not a limited section. As SaaS is developing more things are in store for sure.
So far we briefed you with an overview of what is SaaS, its benefits, and its types. But how do you go about building a SaaS product? What goes behind it? Here's looking at it now.
How to build a SaaS product?
Saas is predicted to grow at a compound rate of 18.83% from 2022 to 2030 as per the MarketWatch study. SaaS technology as we have seen brings in a lot of options today. From building platforms to connecting apps, analyzing big data, and integrating IoT (Internet of Things) solutions. The scope is wide, so learning this 'how' is worthwhile today.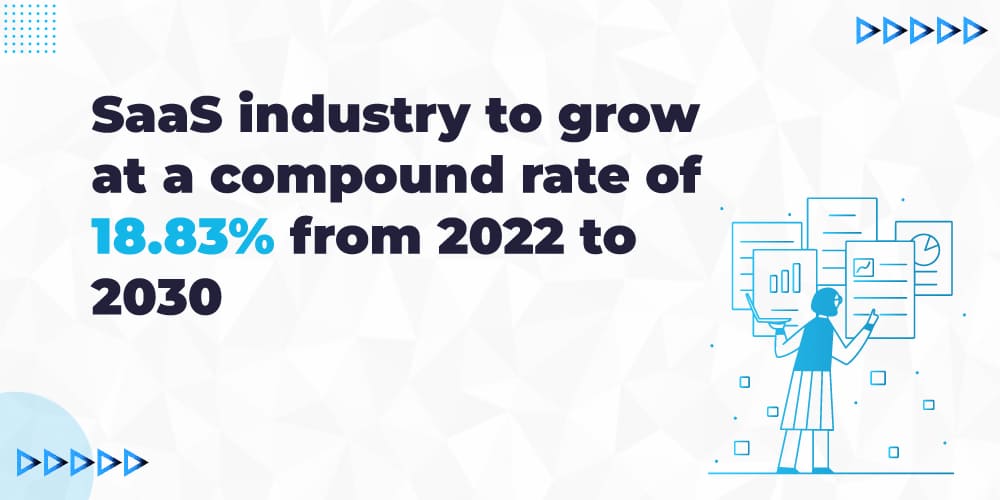 That is, it is an investment worth your time and attention. And to develop that further, you got to sit and focus on:
Plan and market analysis-
The idea you have needs proper backing to start. You need to identify your target audience, niche, pain points, probable competitors, uniqueness, and business models. Because all this will set your direction for business opportunities and SaaS development.
Roadmap of your business plan-
This will include the market USP you want to run for, the pain points you wish to target, the plan to reach your target audience, your goals, a risk management plan, a list of requirements, and a cost estimate.
Review analysis of your requirements-
SaaS like we said has a lot of features from security assurance, self-service provisions, and user activity monitoring, to multiple users. It's on you to look at what you want to focus on. A comparative study with your competition can therefore be helpful here.
Your stack of technology to be used-
This counts for the frameworks, tools, and programming languages for your software development. This includes your front-end, back-end, hosting provider, and database.
Team creation-
Once your idea looks concrete on paper, you need to work on hiring the right team for execution. An ideal setup would be dependent on the following types of individuals:
Designer
Software Developer
Business Analyst
Quality Assurance tester
And
Project Manager

Or liaise with them if hiring is an issue. Seek a team of professionals for your SaaS vision.
Creation of a Minimum Viable Product-
Where you create an accessible product about yourself with UI/UX designers, architect the application and test it before it is out in the open to your target audience.
But questions about SaaS don't end here. We only gave an overview and a way to attempt a start. From identifying your business model or your need for SaaS. There is a long way to go.
Parting Words
We have been enablers in the SaaS product domain and understand your doubts/ confusions that stem from this idea. But worry not, we are here to help. Moreover, this is not all about understanding SaaS. SaaS products, models, types of business, upgrades, licensing, and much more are yet to be unfolded for the discussion about SaaS.
You can always connect, drop us your query or get in an interactive exchange. We hope this guide helps you to find the right call you have been waiting to take with SaaS. Cheers!