Us cultivating healthy relationships for the emotionally neglected
How often have you considered the feeling of being emotionally neglected? Scary, isn't it? Things that disturb us, we ward off. But to what extent? That's precisely why we bring in the discussion about cultivating healthy relationships for the emotionally neglected. Because what we don't see also matters!
In the following blog, we only aim to see the other side. A side that will one day be ours and a sight we have never tried to perceive better. And before we begin, here's a glance for you.
Here we take a look at a few critical misses. The senior citizens and the slum dwellers who suffer a significant setback with the experience of emotional neglect in the quest of maintaining healthy relationships. We, therefore, attempt to look at their situation, both emotionally and in reality.
What are the most important elderly needs and wants?
Often while interacting with elders in the presence of their young kids or grandkids. We communicate with the latter. Because it gets assumed that they aren't capable anymore of acting and speaking on their behalf.
Definitely a wrong notion. And it's time we check our actions. As most of them are capable of conducting themselves. And just like us, they don't want to be identified only by the age/ 'senior' tag among the family members and in general.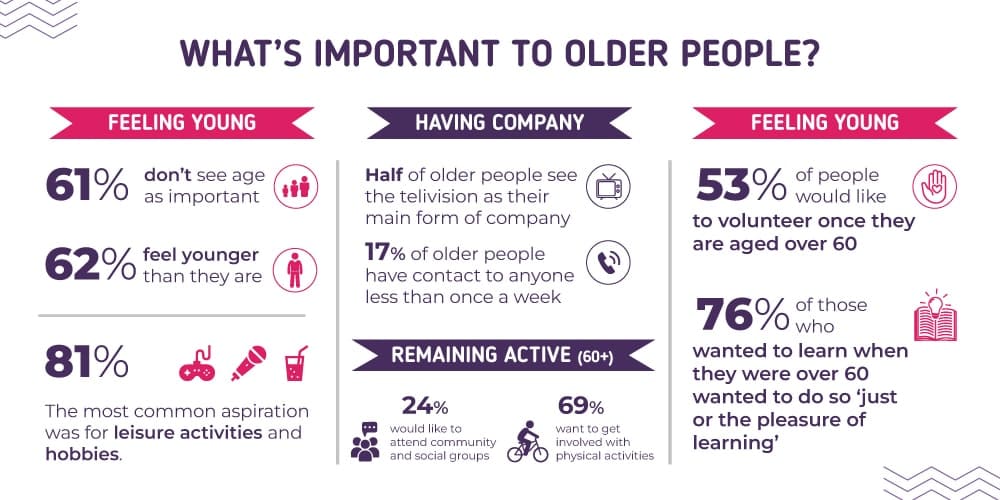 Therefore, seniors who are socially isolated or lack social/ family relationships are at a higher risk of developing suicidal thoughts and anxiety.
This brings us to reading about these needs and wants,
Financial Security to feel safe
Companionship and maintained relationships
A pleasing social community
Food for a balanced lifestyle
Physical activity to remain agile
Respect and exchange of decent pleasantries
A comforting routine
Ensured comfort
And lastly,
Independence to maintain their dignity and esteem.
When we see them, we feel it's nothing extraordinary, but it becomes so as people age. This is what they prioritize.
Myths young people have about senior citizens
We have a decorated notion of old, where we often forget they are no different. They have experienced all the phases we do now. This leads us to believe some false notions like:
Driving skills decline over age, sure eyesight might suffer. But a good section remains capable of driving well.
Liking for physical appearance becomes less,
They are not internet-friendly. 70% of older people use Facebook daily! Often leading to the overuse of social media.
This is just one-half that seeks healthy relationships. There's another aspect that demands our attention.
What we don't know about the slum children?
17% of urban India are slum dwellers, according to a report by Times of India. At the same time, India also comprises 25% of the world's total children's death rate.
Lack of healthcare and proper lookout serves as the main concerns for this situation.
Metropolitized lives have also impacted generic overview. We don't have the time to look around. The work, the crowd, and the hustle keep us going. While many slum children walk around streets starved, begging. And living in neglected conditions.
With a general lack of:
Proper Sanitation
Safe drinking water
Safe habitat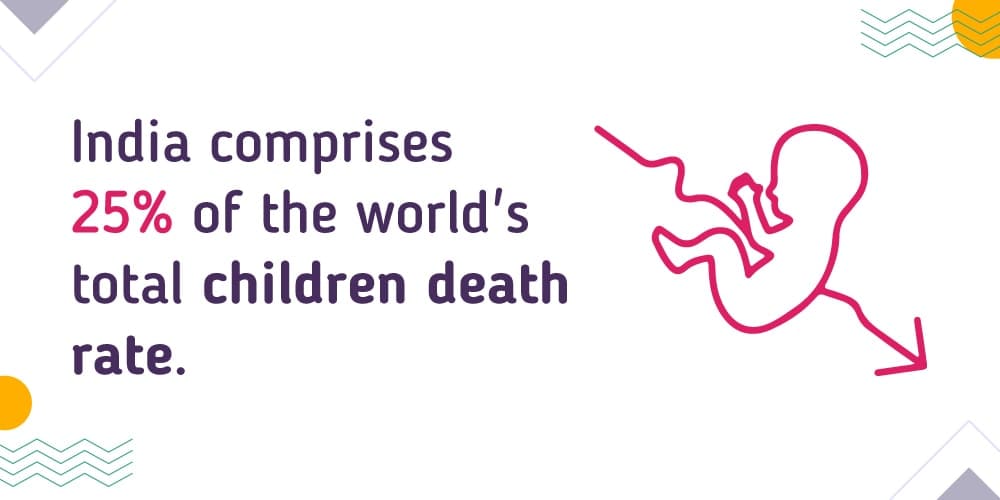 And in our country, slums are seen through the poverty alleviation lens. However, we have policies like Urban Local Bodies for poverty relief. And Jawaharlal Nehru National Urban Renewal Mission (JNNURM) for improving the quality of life in urban dwellings. But compassion is what's lacking. Things happen on paper, but the look cast on them is shameful.
A small change can be infused with the following:
How we talk to them
How the discussion about them happens at home, at the dinner table
The treatment we met out to our domestic help
Cultivating healthy relationships shouldn't be limited to only our peers and workmates. But also to the community, we share with tons of diverse groups. Only when we sensitize ourselves can we see beyond our territory.
All these can only then pull us from the cocoon of privilege. We at CEDCOSS just took a step in initiating this sensitization. With our ideas and collective team efforts, this is how we pulled ourselves closer to the idea.
How we stepped up for cultivating these healthy relationships
Samarpan old age home visit
We are only a speck to fulfilling the needs and the wants we just discussed for them. All we could do was bring some fun times. And social spirits up for the lovely people of Samarpan old age home in Lucknow.
Although it was a day spent, the warmth received was enough for us to retreat. Accompanied by our health and lifestyle expert, Dr. Shobhit, we packed the day with an insightful lifestyle discussion. Which was then followed by a Q&A session.
We got them sweet savories and engaged in a fun singing session.
Along with, smiling photos and vivid interactions that were around. They even sketched their favourite moments or anything of their delight for us.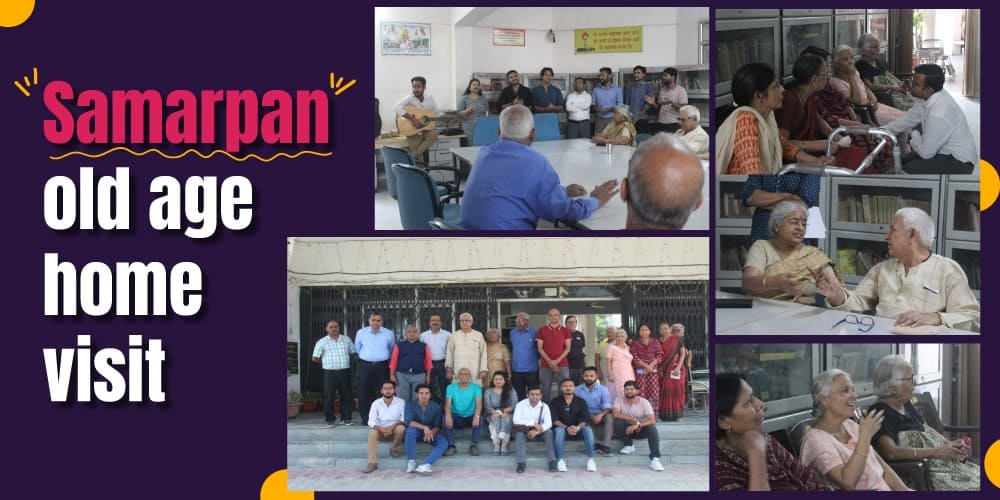 The day went by quickly because the spirit of the place was very lively. The wrinkled smiles were not dull but full of life and lessons. In addition, we also thanked the management and staff of Samarpan Old Age home. Who ensured the day's pleasant course for all of us.
While we also learned what cultivating healthy relationships for the emotionally neglected meant. Because at the core of it all, they only seek compassion, love, and respect. Something that should be irrespective of age.
Spreading smiles to the slum-dwelling children
Diwali is a festival of sweets, delights, and lights. But lights this time was not limited to our gates. We shared them with the slum children in association with Sarthak Foundation.
Moreover, we shared the joys of crackers, sweets, and Diwali lights with the kids. The interaction was charged with liveliness and fun. Time went by with playing and clicking fun pictures. And loads of laughter!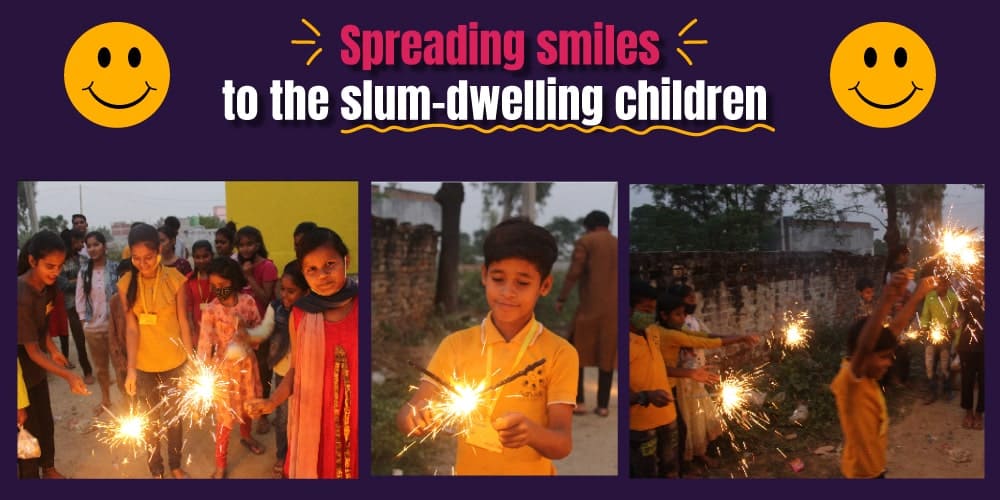 All thanks to Sarthak Foundation, we pulled this off with great success.
Neki ka Dibba
The time and tide wait for none. But for how long? Sometimes all we need is to sit and look around. This is what we did with 'NEKI KA DIBBA' or the 'Blessing Bag.' Where we welcomed donations from our mini CEDCOSS community. Be it money, woolens, books, or stationary. Everyone came forward to share the joys of Christmas for the slum dwellers.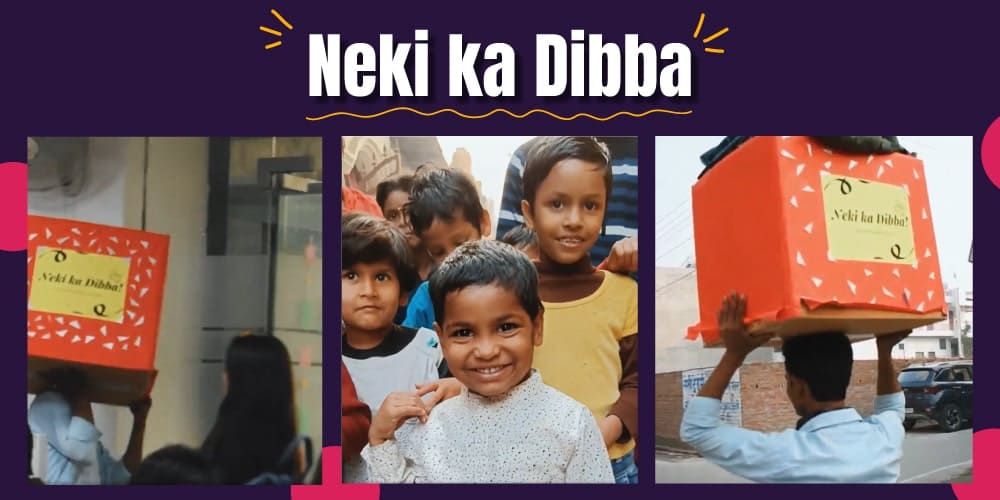 But we cannot take the credit alone. If not for Sarthak Foundation again, we wouldn't have pulled off with this magnitude. Besides, they guided us to the slums around Chinhat locality and helped us with the distribution. There were woolens, toys, and necessary stationery. And, of course, lots of new stuff for making it warm in the harsh winters of Lucknow.
They received it with love too! There was warmth in the eyes and smiles in the parched faces. And with a well-equipped hand like Sarthak Foundation, we felt our step reached the right place.

Moreover, we took out the blessing bag again this year. This time in association with the Karunansh Foundation to reach out to another group of children to share our care. We ventured in the thawing month of December. At a time when cold waves become brutal for our receivers.

We collected goodies across three branches and distributed them among the children; food, clothing, toys, and necessary aiding funds.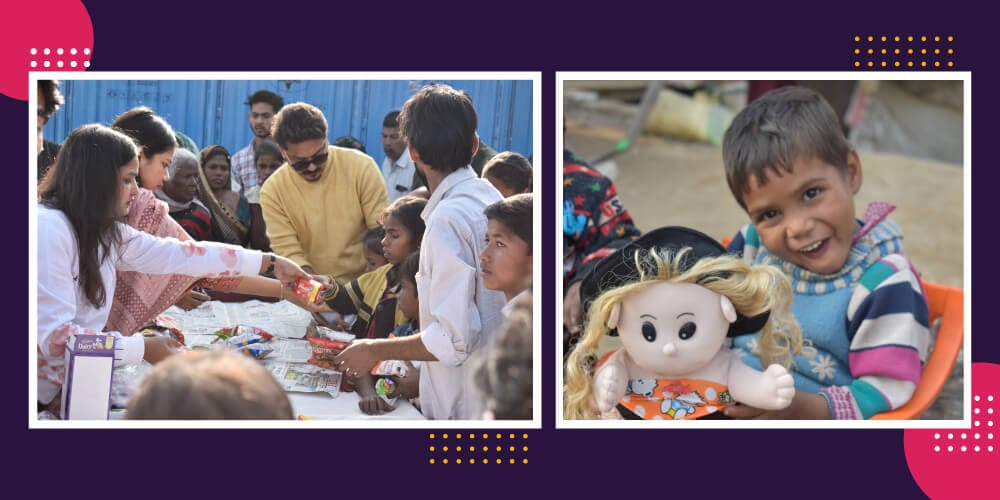 Taking out the Neki Ka Dibba is now becoming a yearly ritual we are proud to pull off. And not to forget, our dedicated team members came forward in every possible way. It is with this collective cooperation we handled the overwhelming warmth.
This one is for all who believe in the CEDCOSS dream of a harmonized community!
Penning Down
This is not a sum up, but only a beginning. A beginning to the changed lens. The modified lens in cultivating healthy relationships for the emotionally neglected.
What began as a study of understanding led us to take steps for a better world. We are happy that we started. But we are not content. CEDCOSS has been community first and will always keep doing that. Because we believe in being CEDCOSSforACause.