Don't miss these awe-inspiring benefits of CRM now
Did you know CRM has grown 4 times in the last 10 years? And that, too, from 13 to 48 billion dollars! Well, that's what the Super Office states! And for sure, there are reasons for it because otherwise, so many organizations wouldn't be going for the solution.
Moreover, the average return for every dollar spent on CRM is $8.71, according to Hubspot. Indeed there is a lot of ripple with CRM! So let's head out to discover the benefits of CRM in our following discussion. Where we unravel more about this giving relationship management strategy.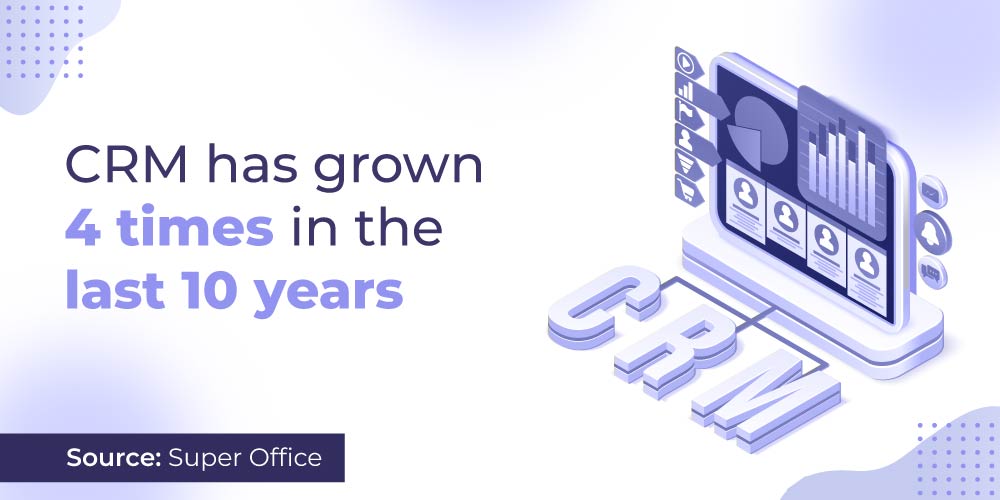 Purpose of CRM

How it assists the sales and marketing funnel

Features of CRM

Real-time data
Customization
Third-party integration
Contact management
Pipeline management

Benefits of CRM

Customer segmentation
Up-selling and cross-selling
Client retention
Accessibility
Data-driven decision making
Onboarding
Why is CRM the call?
Often you will come across people who sell the idea of CRM as software. No doubt it s one, but at the heart of it, it's a strategy(according to Harvard Business Review) that people and organizations use to enhance their relationships with their customers. (Explains why the name)
And that's where the idea fails at times. Because the lens is in limitation. Whenever you claim CRM as a technology or software, you lose sight. In fact, every time you seek a CRM solution, you should eye for the amount of flexibility it offers to you. Because only then can it fit in well and help you meet your targets.
Plus, CRM is an essential component of digital transformation today. After all, these digital technologies are transforming business processes, strategies, and operations. Because the world is now progressing toward agility. That is not restrictive in its plan and action.
How CRM assists the sales and marketing funnel?
Before we directly answer this question, you must understand CRM focuses on three aspects, namely:
Customer support,
Sales
Marketing,
And CRM is a true blue partner in complimenting the funnel for each. Although we will be addressing the sales and marketing funnel, you can draw well how CRM can be used in combination.
The funnel consists of 4 stages:
Awareness: Where the audience comes to know about you or your brand
Interest: When they contact or follow you for your products.
Decision: The customer compares and makes a decision in your favor by choosing you over the competitors.
Action: The customer either purchases with you or abandons your option.
Now coming to how they equate with CRM, this is what CRM does, according to business daily:
At the awareness stage, CRM can chip in and help with prospecting. That is, you integrate your interactive (social) platforms with CRM software and gain a tab on the prospects to approach.
At the interest stage, this CRM will help you in scoring leads most likely to become your customers. So review twice, and cut once here.
At the decision stage, CRM helps in quoting prospects. That is, you share a personalized suggestion for them basis on their interaction. Say reminders based on their pain points.
At the action stage, you can close the deal as CRM helps with analysis reports and sales pipeline forecasting.
So you see how critical it is in use. Apart from this, some undisputable features of CRM also need your attention along the lines of benefits. Time to discover them now.

Must check features of CRM
Real-time data
When you use CRM software, this is one of its best aspects or features. You get real-time reports on how your campaign is performing at the moment. Along with real-time interaction with the team for the qualified leads.
Because you gather real-time data with which you can:
Have an instant update on the market and change or tweak your plan accordingly.
Your marketing decisions are more informed
You identify the performing and non-performing products/ services.
Customization
CRM software purchase might be a bit tricky. But it lets you choose the features that you need. Some even offer customizations in the plan. That is also enabled with plugins and extensions so you can tailor the solution for your business.
Third-Party Integration
Remember we briefly mentioned integrating CRM with your existing solutions (and socials)? Well, this is the feature. Many CRM solutions bring this amazing opportunity. As you can easily connect them to your existing solutions. Thus saving your time, money, and of course, energy.
But be careful. Some might be a little complex, so IT help has to be ready.
Contact Management
According to Super Office reports, 72% of CRM users prefer ease over functionality. And contact management is one such feature that requires ease. Because this is where the test of CRM lies. Management of your customers' leads or prospects is a business's foundation. Therefore, a CRM system that has an easy-to-manage and use for contacts can help you collect and use them in the most productive way.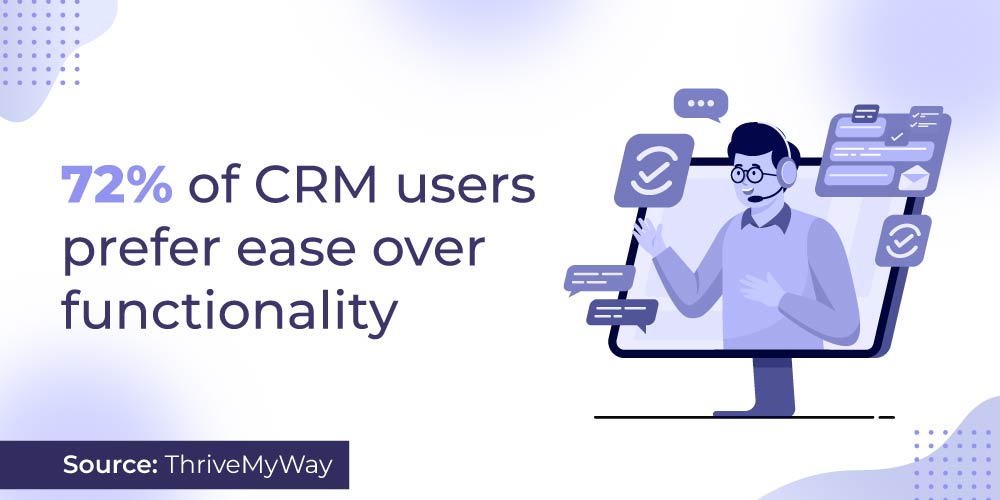 Typical contact management is something that will help you:
Create contact information
Add details to it
Share it with your organization
Pipeline Management
Sales representatives find prospecting as the biggest challenge today. (About 80%, according to Super Office). Therefore undertaking CRM to manage the sales pipeline is crucial because we just saw how it assists the entire process. Additionally, the CRM should also help you with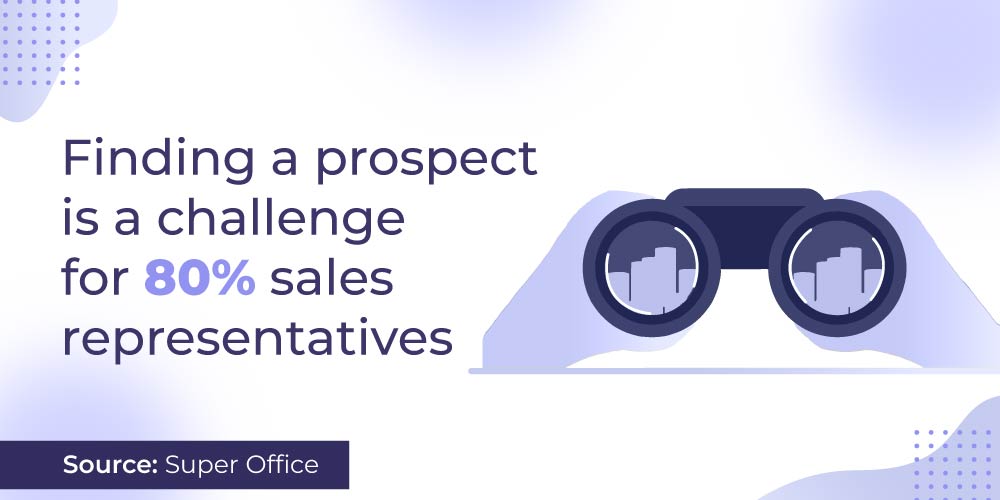 Forecasting and reporting,
Automation for sales combined with AI functionalities,
A structure in the entire process,
But these aren't the only features. This is our suggestion that you should try not to miss. Apart from these, there are many others, like lead management, email marketing, analytics, and whatnot.
This now leads us to the next section. Where we discover the best Benefits of CRM.
What are the benefits of CRM?
Customer Segmentation
CRM comes in handy with your feed's personalized sponsored ads. Say you were looking for socks, and suddenly your social media feeds have advertisements that range from socks to shoes and everything associated. This happens because of CRM. A site that you might have browsed had integrations with the social platforms. And as soon as you exit the site and go back to your feed. The CRM system personalized the ads for you so that you click them. Fascinating right?
Up-selling and cross-selling
Interconnected to our previous benefit. CRM improves your selling prospects with all that data it collects. So what happens is with all that customer interaction, behavior, and pattern. You can up-sell, that is, show the customers a premium segment from the range they were just checking out.
And cross-sell is a practice where you can highlight complimentary products to your customer's basis the data you have collected. So CRM, in short, builds and gives you the right opportunity to use and market with the database.
Client retention
A few days back, while working on this, our team came across an interesting piece by Mr. Himanshu Shah, a strategy director at Chaaya Devi Associates London. And while talking about the benefits CRM gives its users, he highlighted a vital brief that reads like this:
Customers will see what they want
They will get what they want
And take the help they need
All because you chose CRM to help your customers. And if things fall right in place, you can have excellent customer retention. Because according to Forbes Advisor, winning new clients costs five to 25 times more than keeping the existing business. This is further assisted by CRM tools that help in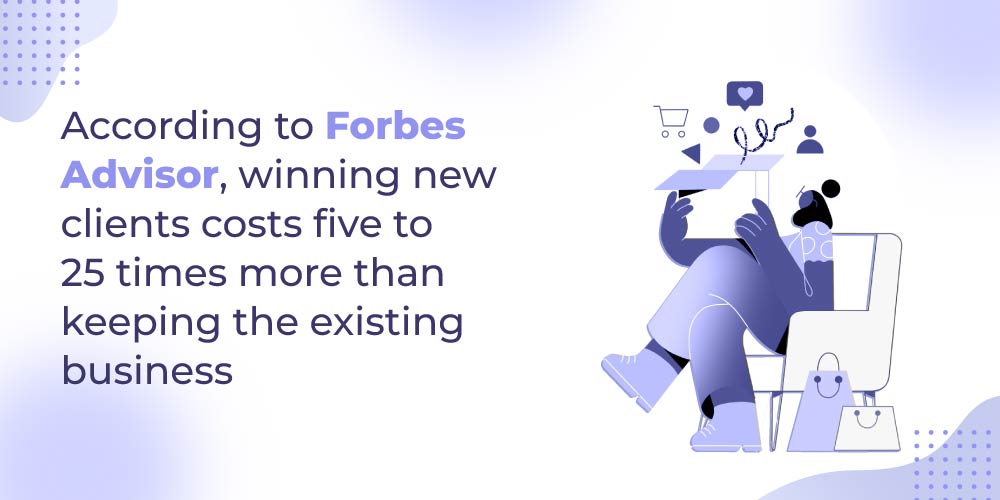 Sentiment analysis
Automation in customer support and services.
These help in taking the right call to resolve situations. Which in turn promotes brand and customer loyalty. And remember, contribute to your CRM success.
Accessibility
Cloud CRMs are on the go now. And thanks to them, you can access the pile of data from anywhere, anytime! Be it your laptop or desktop, or even mobile phone. Every possible data (in-depth) is accessible to you with CRM. Besides, you do not just view the information. You can take action and interact with the team or customers on the go. Therefore, CRM's accessibility is a win-win for the ones' using it.
Data-driven decision-making
This is an obvious benefit. You also get hands-on data analytics and reporting when you collect the data. With CRM's help, your business can easily make data-based decisions. Because by now you have studied the patterns of your customers. You know what's working and what's not. The result? You have a more targeted approach leading to your revenue increase.
Automation
CRM is a wonderful assistant, from centralizing all the data in one place to helping you with analysis. This one benefit of CRM among the rest stands out work-wise. Because it automates a lot of that monotonous bit of your job. So that you can focus on more constructive and productive strategy building. Leading to improved administration and shortened sales cycle.
Conclusion
The discussion on the benefits of CRM comes to a halt here. But the discussion on CRM is a wide horizon. Be it the way you can use it for marketing or utilize it for various industries. The benefits are giving meaningful growth in this journey.
If you have anything to contribute to this discussion or suggestions for us. Please feel free to connect and share your opinions. Till then, keep reading!