How we understood Menstruation and Women Empowerment
Women form 49.58% of the world's total population. Yet struggle to secure decent employment even in today's times. The question is, why? Why now? The answer to this still lies in the deep-rooted challenges of menstruation. And we at CEDCOSS, being believers of women leaders, learned and understood how menstruation and women empowerment go hand-in-hand.
To understand this further, follow us through this trail:
How menstruation affects women?
Proper menstrual hygiene management empowers women. We say so because lack of appropriate sanitation leads to dropping out of schools, quitting jobs, and whatnot. Alone in India, this lack among 355 million menstruating women leaves 12% of them without any menstrual products or aid.

This further leads them to experience grave situations like vaginosis. That is often caused by using harmful things like plastic bags, rags, or even ash during menstruation. Moreover, 367 million children do not have sanitation facilities in their schools, forcing them to drop out.

Forced rather than chosen, all this pushes them further into undertaking domestic duties. Of which women do 335 minutes of unpaid care work compared to 40 mins of work done by men. That is, 8x times more care work than men.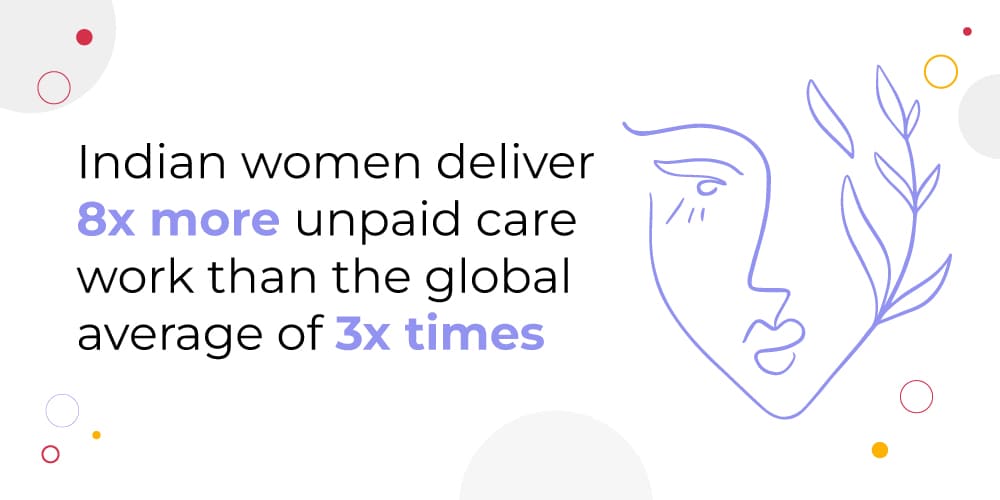 But that's not it for the uneducated class. Women across all age groups and education levels deliver more care work. The disparity is highlighted here.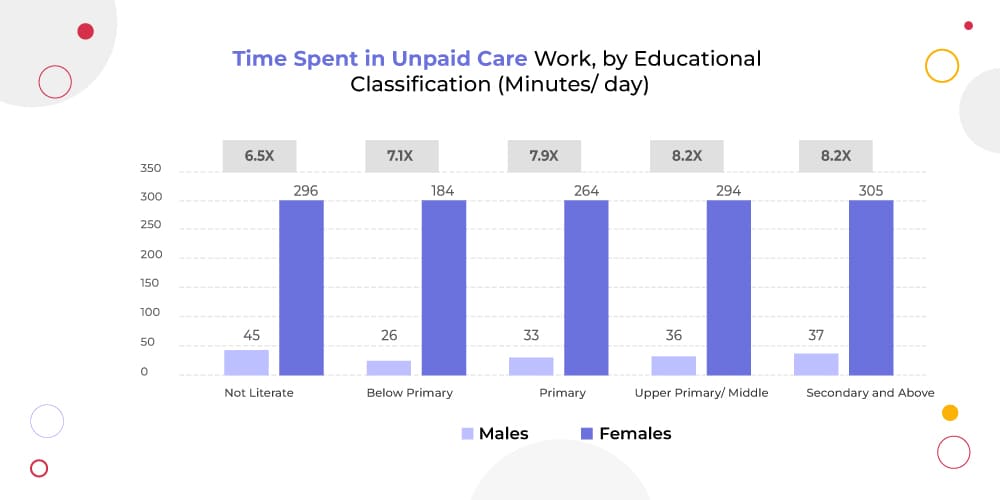 This further adds to the severe stress level, that women undergo throughout their life. (See fig. 2)
While this is prevalent, many women, especially young adolescents, highly lack menstrual hygiene knowledge. Contributing to it are:
Stigma about discussion
The taboo associated with period blood
Limited opportunities to discuss it
Limited social interactions

This lack was studied among the slum dwellers in Lucknow. Highlighting the graveness in our closest vicinity.
The intention here is simple, to highlight how one biological phenomenon affects the growth and development of almost half of our population.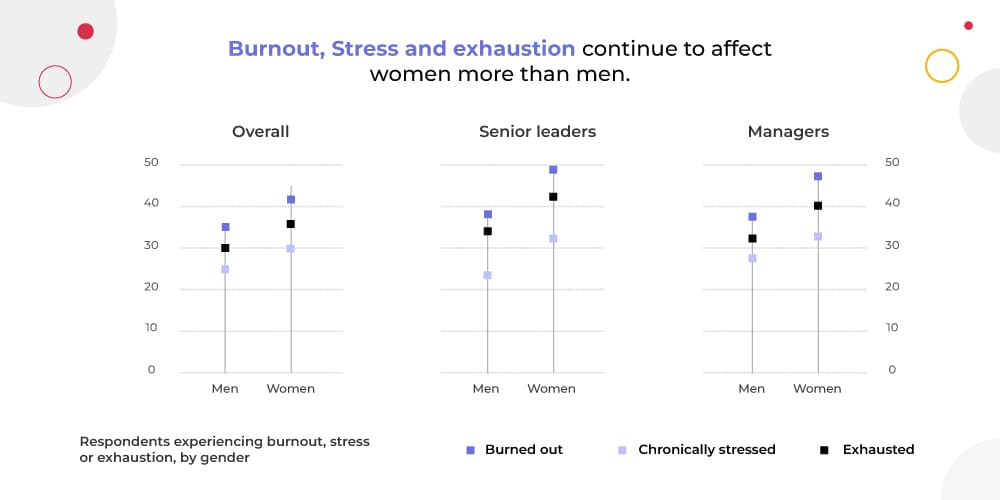 How menstruation empowers women?
So far, we have seen how it affects. But how does menstruation and women empowerment go together? A biological activity, if treated well, can miraculously transform things for such women.
While 45% of women cannot make decisions concerning their reproductive and sexual health, more inclusivity and discussion amongst men, women and trans alike can sensitize the situation for all.
Only then can we achieve a certain level of gender equality. Otherwise, we can never subside the fact that 42% of women still face period shaming.

If proper menstruation tools are provided (like sanitary pads, menstrual cups, and tampons), then women get empowered at
Workplace
Schools
Universities/ Colleges,
And other corporate/ private bodies.
This improves their overall representation. While the biological process no more hinders the avenues they wish to pursue.
Women-focused, Women-led initiatives
90% of the companies have at least one woman representing a senior managerial position. But just one? How is that justified? We at CEDCOSS studied all these parameters before deciding on a venture for women. The following come since we as an organization felt the need to do what's right. Not just work-wise but overall.
Sanitary Napkin Dispenser
A menstrual emergency can occur anywhere, anytime. Because sadly, they don't knock and come. In place of that understanding, and ensuring that our female staff stays safe and healthy during the tough days. We installed a sanitary napkin dispenser on our office premises.
A move that was well-thought-over and welcomed by all the members alike.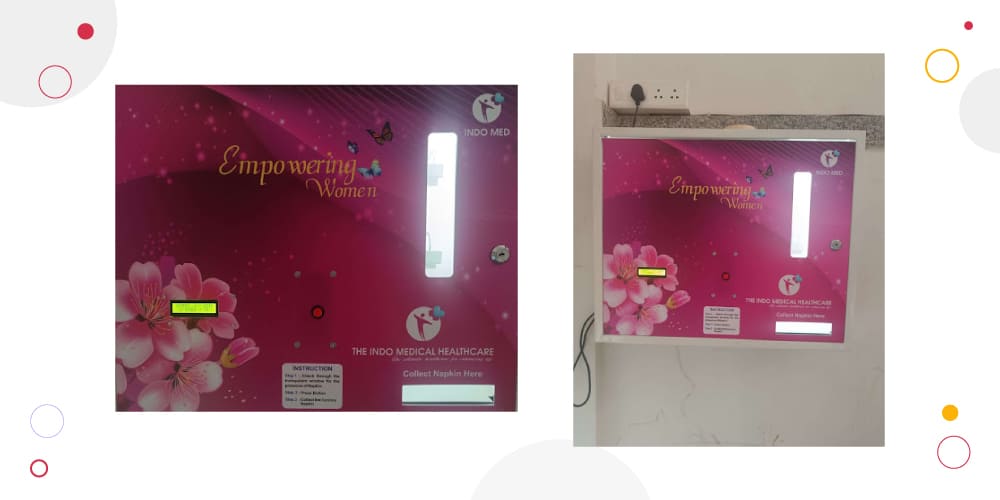 The dispenser has been installed for our female staff on the go. That is, whenever they need, they can collect one on their way either into the office or before leaving.
Our staff has appreciated the installation. Since many-a-times, we heard them calling it a day or facing difficulty in seeking a sanitary napkin within the premises. With this installation, things have become better for them at work.
Food and Fitness day for women
Women are the primary caregivers, and we know that. There's no shaking it off our heads. But what these primary caregivers do is often miss out on their very health.
Something none can afford. This led us to organize a virtual session for our women on food and fitness day. With heavy participation, we welcomed an informative interaction in association with Dr. Ekta, Gynaecologist from Apollo hospitals.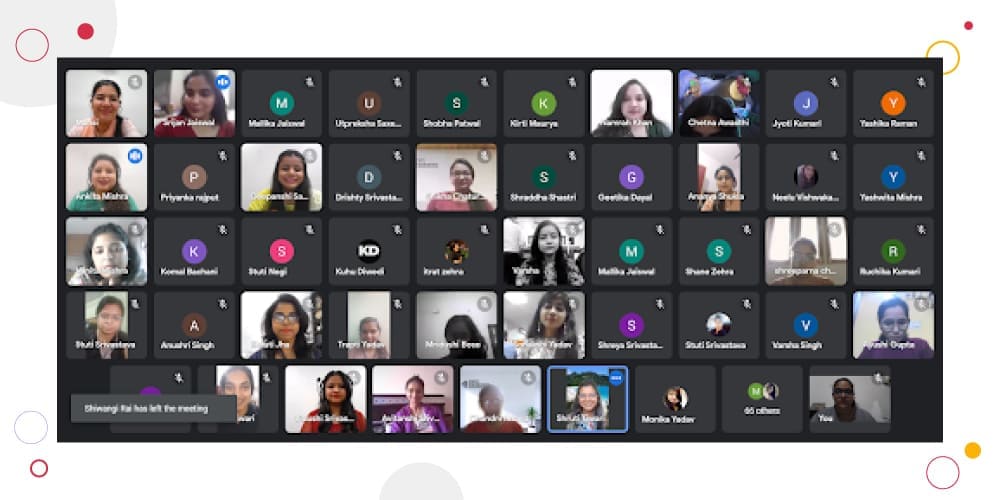 The hour-long session witnessed our employees being educated on the following:
-Cervical cancer
-Breast cancer
-Vaccinations for cervical cancer
-The importance of short but fruitful exercise
-Addressing myths and Taboos around women's reproductive health.

While the light was also thrown on subjects concerning using the right menstrual tools. Our employees also broke into discussions about the discomforts they faced or continue to face. Moreover, many were asked to regulate their gynecologist visits because something minor becomes major in no time.
All the attendees also ensured to share their tips and practices for healthy living. At the same time, learned what the speaker of the hour shared.
Sanitary Napkin distribution
9 out of 10 girls are not aware of basic menstrual knowledge. At the same time, many are hesitant to ask even the bare minimum questions that concern them.
On the other hand, period poverty pushes young girls away from education and employment. Where failure to acquire
Menstrual tools
Basic sanitation
Access to healthcare
Paints a gruesome picture.
This then mobilized our movements and drove us to conduct a Napkin Donation Drive for adolescent girls in an orphanage here in Lucknow. We were accompanied by Dr. Ritu Saxena, who ensured the correct information gets circulated among these girls. More the merrier was the occasion with our volunteers on Menstrual Hygiene Day.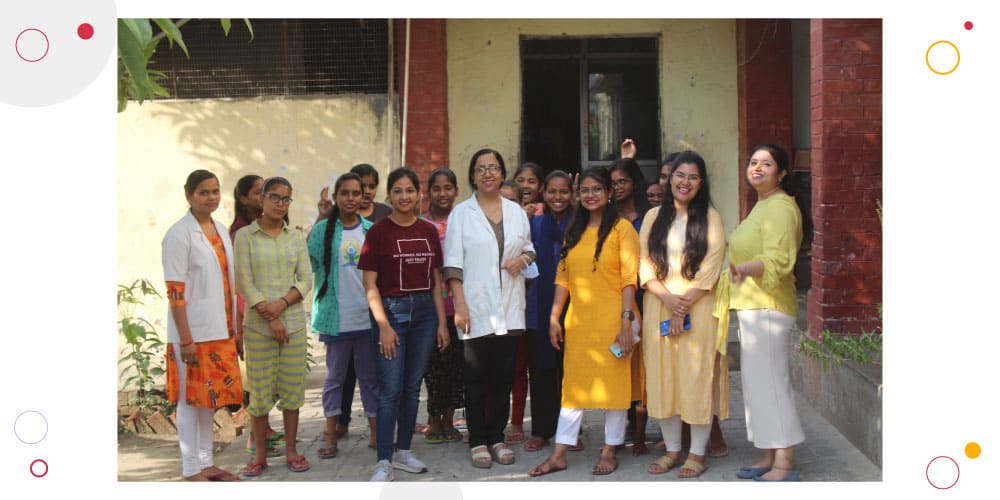 We did this to strengthen women who receive absolutely no guidance on menstrual conduct. This shouldn't have been our concern outside our office, but no, it is our concern. As responsible members of society who care. Care for apt representation and upliftment of the women folk.
The picture we see today has been around for years. It's only in the coming years things that are getting widespread attention. Thanks to the internet age and media. And before it's too late, make sure the proper care and move reach them at the right point. Because this is all, we aimed for with our collective efforts. For women of CEDCOSS and around.

For someone at the orphanage, today's distribution will serve her for many tomorrows. Which would have faded in harsh lights.
Parting words
We are only trying. To address the prevalent issues and become a better version of ourselves each day. Because change is a continuous process. And Rome wasn't built in a day.
Gender inequality has become deeply infused in our systems. Small bits and recognitions will be the only saviors. Trying is all we are doing in this process of unlearning.
This is just one of many steps. And we want to take as many as we can!
After all, the long-done damage is a slow-pace recovery, something we want to strive for and work hard towards. Leading us further in this journey of understanding menstruation and women empowerment. To know more about us, click here and learn more. We are just a text away!