Why should you become a partnership manager in this demanding era?
Partnership manager? What's that? Is this a new career avenue? How do I start? And where?
If these questions made their way to your thoughts, then worry not. We got you covered here. As we discover the route on 'why become a partnership manager.'
The role is in high demand across many businesses. So much so around 7000+ are the listed jobs in India over LinkedIn alone for the profile. Right now! To dig in further, let's elaborate on the blog on the following fronts:
Who is a partnership manager?
A partnership manager, in simple terms, is an individual/ professional responsible for mediating and managing the relationship between two partnered firms or organizations. Where both the associated parties get benefitted with their
Strategic planning
Support
Guidance
And
Advice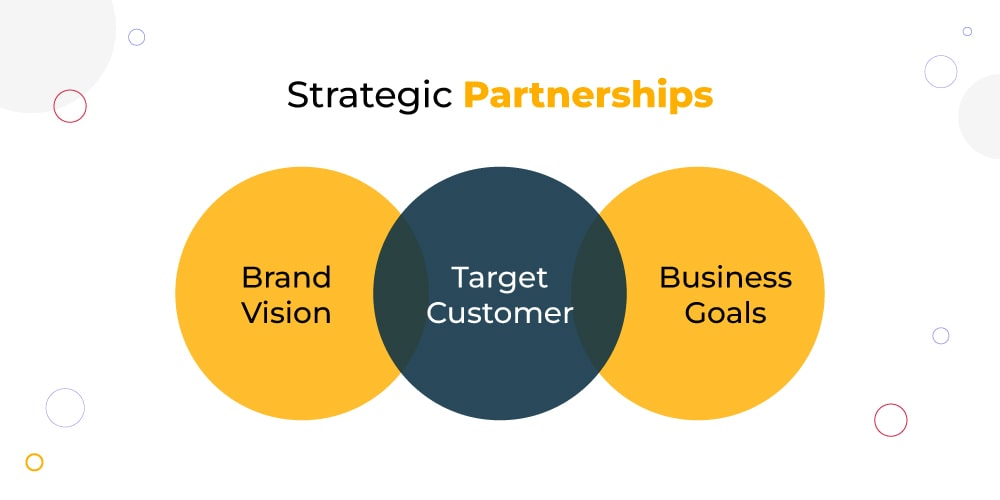 Now becoming responsible for driving 30% of company revenues, these partner managers are resourcefully combining the promotion efforts. Along with ensuring the fact that set expectations are met. And help increase profit margins for both the parties involved in their respective domains. In addition, they make the process mutually beneficial for both. While always seeking meaningful partnerships and scouting opportunities for growth.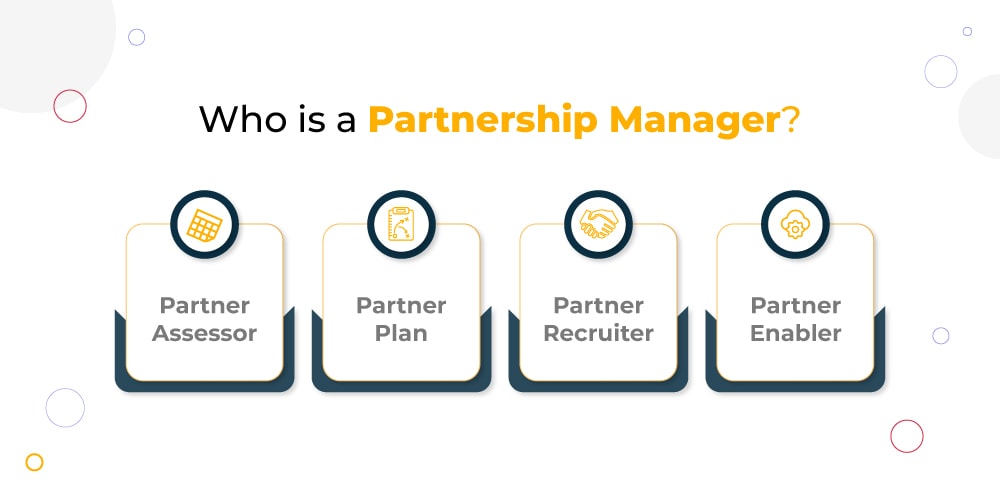 What are the key responsibilities of a partnership manager?
Now that you know who is or rather what they do. We must look into the responsibilities as well.
A partnership manager dons many hats. Keeping in mind the role we discussed. They undertake:
The duty of locating new partnership opportunities. Where

They research and review prospective partners
Invest time and energy in reviewing the products and services
Connect with people from various walks of the industry
Networking around with meetings, liaising, and phone calls.
Focuses on short-term revenue generation avenues and long-term prospects like market size and share.
Motivated in lead generation for the company and closing of deals.
Shape and understand the growth goals of the partners.
More than creation and association, they are inclined to nurture and maintain partner relationships in the partnerships program.
Design policies for partnerships to grow that keep a constant check on issues and churn out solutions. Solutions that make both parties cross hurdles.
Aiding in learning and training sessions for your company products/ services that the partners have tied up with.
Work towards the formulation of impactful business decisions.
Enable and support company executives in realizing their objectives.
If communication is the key, then they are the holders of that key who ensure a proper communication channel is always maintained between the potential partners and the existing ones. 
Situational analysis is a must and keeping this in mind. Partnership managers are also responsible for understanding and adapting to partner constraints.
He/she also has to be a creative thinker because good communication skills is a prerequisite for the role. 
Also read: Non-tech jobs at IT.
More so, they are relationship managers. The very essence of their job role needs them to be agile and ready to take up leaps and nurture growth. A significant part of which now depends on them.

While the responsibilities are profound, it is also important to realize who needs them now.
Who needs partnership managers?
We hinted at businesses. But what kind of businesses? Today when you see the text unfold here, we have many B2B organizations, B2C, D2C, and corporate firms who need these managers for a proper communicative business channel.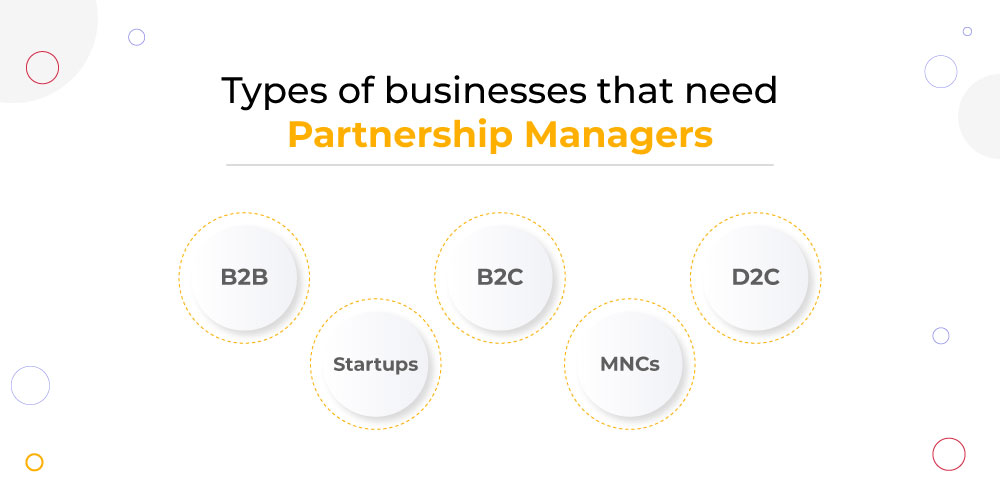 Be it in small-scale or big-scale MNCs. The need is everywhere. From startups to established organizations. While some need to start, some need to maintain the relationship cycle.

Being a partnerships manager doesn't come easy. At the same time, there are no set norms for anything around. Our next section discusses the major challenges faced by the ones who take up the role.
What are the major challenges for a partnership manager?
Since the job role expects them to be at the heart and heat of relationships. There are many challenges that come their way in the professional journey. Some of these include:
The level of control they can exercise over partner firms is highly volatile in nature. Because there is a lack of ownership and an entirely different organization, not just an individual.
Partnership management advocates often struggle with defining hierarchy. A situation where no set hierarchical movement takes place in communication. It's the partnership manager of the company.
There's a lot of scattered data to be analyzed and monitored. This a move that scares many but employing the right management software or portals can help overcome information overload.
Also, demarketing the absolute ROI of their relationship management is not very distinct.
There are channel conflicts where many try to connect with the same set of partners in the industry.
There is often a struggle for governance contradictions since they have to manage horizontal and vertical accountability. As they communicate to the high-end executives and internal teams simultaneously for the partnership success.
Time constraints that partners possess for partnership teams. An issue that disrupts the coordination process. Furthermore, it impacts the business output.
But challenges aren't insurmountable. Keeping this in mind, we now move to our section and understand how to become one. In CEDCOSS and the industry.
How to become a partnership manager in CEDCOSS?
In this section of our blog, we connect with our in-house strategic partnership manager, Mr. Akash Chaddha, and take a deeper look into understanding what prepares you for the role.
In a candid discussion about the same, he opens up to us and shares his insights.

We have a fair idea of the profile. But if you had to share your two cents. How would you define a Partnership Manager?
From how I perceive it with years of added experience is that a partnership manager is an absolute problem-solver. Whose primary dealings are with C-level executives on a day-to-day basis.
What key skills should be there in a partnership manager, according to you?
There are many such skills like:
Efficiency in project management
Possess leadership qualities
Is a precursor to business development
Efficient management of client relationships
Quick and thorough at decision-making.
But what stands out the most is their ability to pull off a strategy creation—at the same time, setting a standard operating procedure for a few common strategies. Along with solid research footing, which needs to be broad and in-depth for partners.

If we talk in the context of CEDCOSS, then awareness about various APIs, integrations, and e-commerce verticals should be well-absorbed by the candidate.
And, additionally, we are also creative thinkers. Since giving out a personal touch during our formal email approach to the partners also makes or breaks it for us. Hence, a flair for writing is a skill that has to be inculcated.
Since you mentioned CEDCOSS, how would you define your journey here? How did you grow?
I came and joined here as a Software Tester six years back. A knack and interest in knowing the other world of the industry led me to take up roles. I graduated from being a tester to becoming a Business Development Associate, then Business Development Manager, and finally as a Strategic Partnership Manager.
The journey has been led by growth and the company's competitive inputs. I have been given responsibilities while earning the space with sheer hard work. The management took the proper care and helped me thrive in this cut-throat environment.
Any tips you would like to give those seeking the role now?
Just know why you are doing it. Suppose corporate relationship management and problem-solving skills pull you towards a significant contribution like this. Then give it your best shot. In such cases, experience with sales and business strategy helps you take up the role. In addition, 5-6 years in executive management also add weight to your profile.
That does help us in knowing the profile better. Thank you so much for your input! We hope this also helps the ones who checked our space.
But more information does no harm, especially for your career. So don't forget to browse right through here.
And apply right away for the role!
Penning down
The role of a partnerships manager or the idea of how to become one can give you a glimpse. At the same time, the journey is for you to decide. Being at CEDCOSS opens your way in the directions you channel your energy.
In times when partnership managers are much sought after, it is crucial that you recognize this need and take up the right opportunity as it comes to you.
But if doubts or questions arise, feel free to connect with us. We will be happy to help.