SaaS vs On-premise, what will be your best option?
SaaS is now a known name and a thriving industry in the global arena. Including India. According to a report by Business Today, the subcontinent is the second-largest SaaS solutions ecosystem. The annual recurring revenue grew 4 times to 12-13 billion dollars in 2022. Where investments saw a massive six-fold jump in the last 5 years. So is it all SaaS in this SaaS vs. on-premise debate?
As per the Venture Beats report, CAGR across significant software companies like MongoDB, Elastic and, Spunk, Confluent was atleast 72% and around 200% from 2018 to 2022. Whereas for on-premises, it ranged from 41% to 55%. So should you be going the SaaS way too, or look a little more inside the on-premise? This is what we plan to take up today and address this tussle of best fit in SaaS vs On-premise.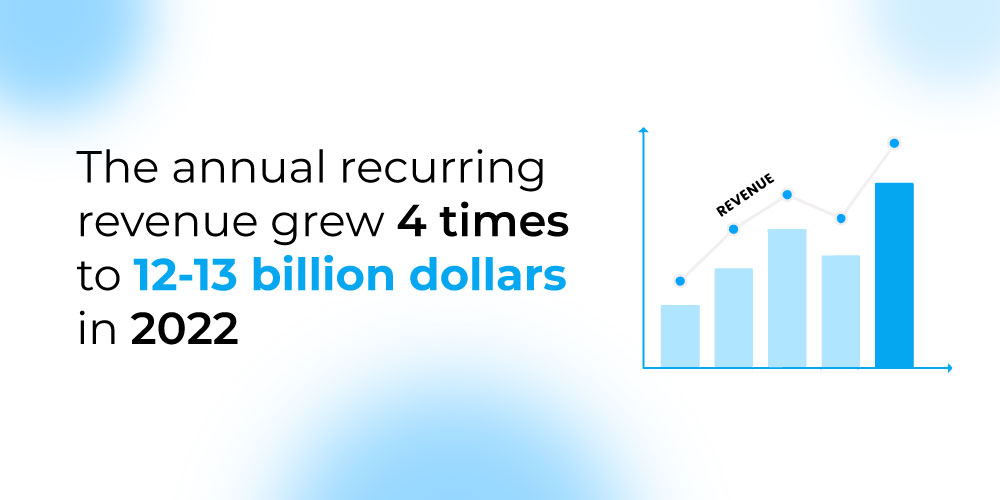 In the following discussion, we throw light on the aspects around:
What is the difference between SaaS and On-premise?
Software as a Service, a cloud-based solution, is a model where the client needs to rent out software from vendors or providers as it is not readily available in their infrastructure. The vendor is, therefore, responsible for:
Maintaining and managing the application
Providing the IT infrastructure
| | |
| --- | --- |
| SaaS | On-premise |
| Flexibility in remote working | Bound to a central location |
| Cheaper in acquisition | Expensive in acquisition |
| Customization is cumbersome | Customization is flexible; |
| Control sits with the provider | Control sits with you |
| Maintenance comes under the periphery of the provider | Maintenance comes under the periphery of the company |
Where you, as a client or owner, don't have to worry about data security, maintenance, and updates about the system. It is also a subscription-based model; everything is stored and secured in the cloud.
The above table is a glimpse into the difference between the two. Highlighting the pros and cons each has in certain areas.
Also read: Beginners guide to understanding SaaS
Now coming to on-premises software, the major difference between SaaS and On-premise is that software is installed on the client's own server, i.e., on their premise, hardware, and software infrastructure. The company buys or rents a license or a copy of the software from the provider. Therefore, the responsibility to maintain the system and equipment falls over you as a client.
And billing or payment is a one-time investment for the purchase.
Since its in own vicinity, you naturally have more control over the asset than in SaaS.
So the basic idea is to house your data yourself (with On-Premise) or put someone else in charge (SaaS).
What is On-premise and off-premise?
Now that you know the essential demarcation between the two hotspots of our discussion, another aspect that often needs clarification is on-premise and off-premise software. Let us know what each is to focus better on our present discussion.
Off-premise software looks like this, where the software solution is run on dedicated hardware located in a different location, and a third party provides the hardware.
So wait, is it off-premise SaaS?
No,
For off-premise, the vendor takes care of the hardware infrastructure elsewhere, and as an administrator, you can still access it, just like on-premise software. It is just not on the premise. But located elsewhere. Whereas in SaaS, you don't have access to the backend. Because the provider is not liable to explain the solution but only provide it to you.
And yes, with Off-premise, the security is shared. Among the cloud solutions, SaaS is all about the vendor doing it and providing you with the end product.
What is an example of SaaS software?
To help you further practically, here's an example of SaaS software to understand the actuality.
Office 365 from Microsoft is a cloud-powered productivity platform. Where you take the subscription to use the latest office 365's productivity applications like
MS Word
MS Excel
OneDrive
Powerpoint
Outlook,
and much more.
Also read: 9 essential types of SaaS tools for your business.
You can install it over the internet, connect and pay as per the use. Microsoft ensures the application's security and maintenance over time while you only act as an end user for the product called 'Office 365. Since it's cloud-based, all the data storage, accessibility, and scalability happen via the internet. You don't have to maintain the infrastructure but only access it from any device with a stable internet connection.
Since the usage and necessity vary from person to person, the subscription model helps one tailor the best fit of Office365.
This is just one among many SaaS software we are using today. Some examples include Skype, Zoom, Gmail, and related services. (Yes, they are SaaS too)
What is an example of on-premise software?
Now coming to on-premise software, we have Adobe Creative Suite as on-premise software. Where you make a large investment for your organizational need. Usually deployed in large organizational frameworks like
Schools
Universities
Offices
Professional outlets,
Where you purchase the unit and install the software in your hardware. And ensure maintenance over time of that hardware to support the software needs. That is, you control the software and operate it as your need.
However, both SaaS and on-premise software vary in a lot of dimensions. As we have seen in our initial discussion, the growth of SaaS is manifold. So does it have the edge over on-premise?
Is SaaS better than On-premise?
Agreeing on a system solely stems from organizational needs. The best for you to choose comes from the requirement. A comparison here will help you understand better.
Costing
You can buy and rent SaaS software at a comparatively lower cost for running the application. Although cyclical and long-term payments are a consideration with it.
With on-premise, you got to invest a one-time licensing fee. But recurring costs involve the maintenance of the current hardware.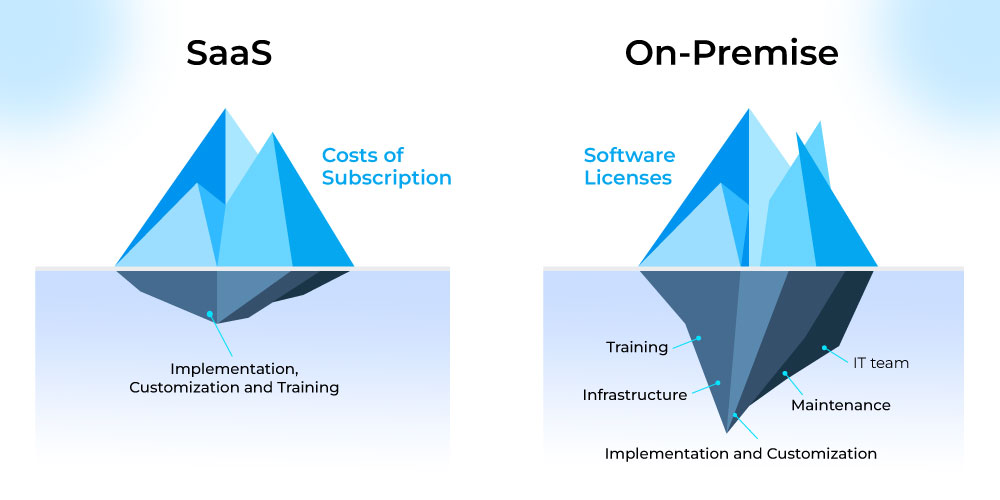 But with SaaS, there is a considerable saving in terms of
No ongoing operational expenses.
You can expand the capacity without restructuring the costs.
There are no application upgrade costs that add on as an extra payout.
Deployment rate
With On-premises, the time to 'be running' is usually longer. With SaaS, it is faster because of the absence of system installation, licensing resources, and hardware. Something that's a precursor for On-premise.
Environmental friendly
SalesForce found its cloud computing 95% more efficient and environment-friendly with a reduced carbon footprint. This strongly implies that handling and managing SaaS software is environment positive because of the lack of a heavy mechanized infrastructural input.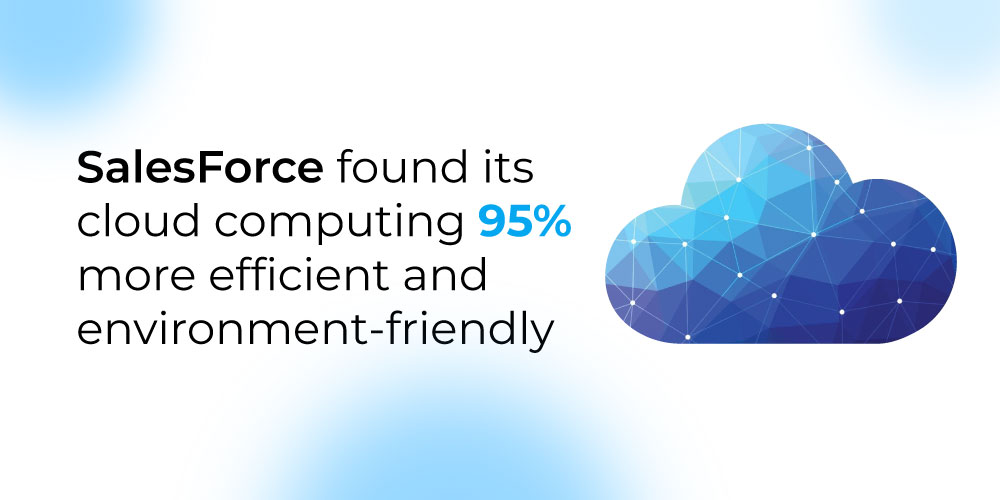 This isn't the case with On-premise. You have to have types of equipment for functioning.
Accessibility
It's not long ago. We struggled with locked surroundings due to a global pandemic. And it was during this time SaaS gave the needed hope for industrial survival while physical places remained closed.
Accessing or attending to on-premise software became a challenge. Because with SaaS (a cloud service), everything, every data, every input was on the cloud and available within moments of accessing over the internet.
While on-premise gives you an edge over the rest by providing off-line to things.
Security
SaaS security is known for its maintenance and adaptability. Data backup happens almost instantaneously. And has better data recovery in case of loss.
For on-premise, there is always an internal maintenance team for the upkeep. Data security is a dicey aspect, potent to loss and theft. Besides, the recovery process is prolonged.
Storage
On-premise storage capacity is much more expensive than SaaS. You also have to pay for unused resources. While a licensed application is needed to access such files. And has to be in-house for the data upload.
With SaaS, all this is taken care of. Because you pay for only what you use. Comes with in-built and data upload can take place from anywhere, anytime.
Control
This is where on-premise holds better because everything is under direct control. Whereas for Saas, it is a partial control.
But the decision to choose either or a hybrid of the two lies heavily on the following considerations:
If your setup is remote, then SaaS gives you the necessary tools for functioning.
If you are a centralized business working on local business solutions, then on-premise is a better option for you.
In short, this isn't a debate or idea to see who is better than the other. Because the employment of both depends on your organizational needs.
In Conclusion,
Our discussion on SaaS vs. On-premise comes to a halt here. We have addressed
the core differences between the two,
illustrated them with practical examples,
and helped you with the considerations that prove either of their efficiency.
It's true that today SaaS among the cloud solutions is making its way in the industry but reliance on on-premise is never not going to fade away. The decision to progress with
If you have more input or suggestions for us, please feel free to connect or drop a comment to help us better address your queries. Till then, keep reading.