Omnichannel marketing: An effective campaign strategy
You might have heard about Amazon's Great Indian Festival or End-of-the-Year Sale! Now, you may not have been a part of this event or campaign, but you should have atleast heard or seen it! The reason is the BRANDING of the event. Where ever you scroll your feed on social media platforms, watch videos on Youtube, Stream television, use third-party apps, search anything on google or any search engine, or even in offline sources, you will cross paths with Amazon's sale presence. And that's a part of the Omnichannel marketing campaign.
Okay, let's sit back, relax and read ahead for a clear understanding of Omnichannel marketing and how you can use it to benefit your business.
What is Omnichannel Marketing?
As the name suggests, Omni means everywhere, and channel means the platforms. So, marketing your business on all the platforms is Omnichannel marketing. It is the integration of marketing, branding, pitching, and visibility of your business across all platforms, whether online or offline, to generate a solid and engaging customer journey!
The most crucial factor here is that all the social platforms, offline platforms, website, and everywhere you are present should completely sync with each other. The customer can connect with you over your website, your calling numbers, your DM's on social media, and your other call-to-actions.
Therefore, Omnichannel marketing is a pattern through which you market on all social platforms, your offline sources, and your website (Responsive), creating awareness for your target audience following by generating leads and nurturing them through all the sources, which are in complete sync!
If you are starting a new business or launching a new product in the market, do not miss to read:- The Go-To-Market Plan.
Now, let's get to the
Benefits of Omnichannel Marketing
According to VendHQ, "Businesses lose atleast 10% of their revenue by not being Omnichannel."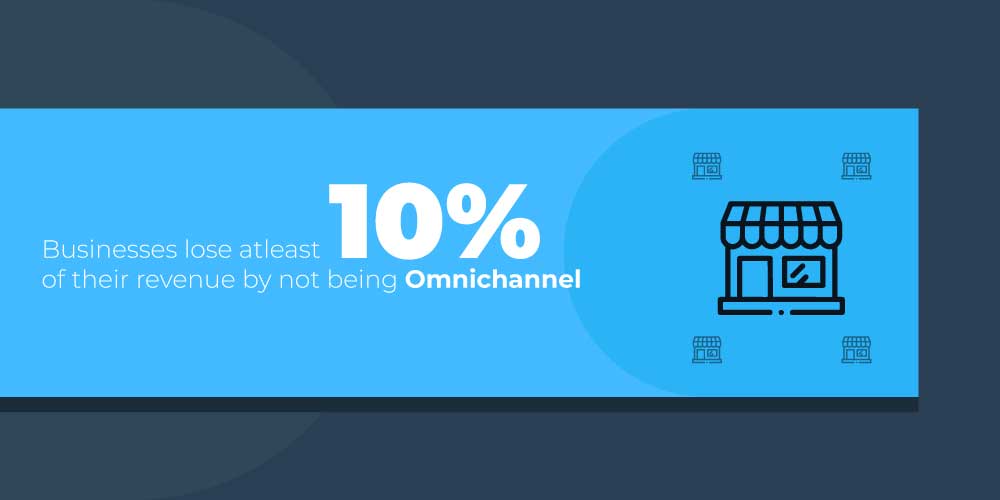 That's a way too high opportunity cost, pal!
So, let's see the benefits of being omnichannel and increasing the revenue by 10% atleast
Creating Brand Recall:-
While you use omnichannel, one thing is for sure. Your brand will surely knock the consciousness of your target audience.
The reason is you are present everywhere they are. Now, if they use social networks like Facebook, Instagram, Twitter, Linkedin, etc., they see you through your sponsored ads or your posts if they follow you. The algorithm works with Youtube as well. Now machine learning is such that they will automatically find you through google ads as well!
Now, if they visit outside, they find you on billboards, posters, etc.
They find you again if they search for the product you cater to.
The seamlessness in this campaign marks because all the channels are in complete sync. The audience finds you in the same messaging, brand guidelines, approach, and call-to-action everywhere.
Your brand sits in their heads and increases the probability of being a consumer of your brand!
Gaining More Traction:-
What shows up, sells more!
And the better the product or service, the more client retention persists!
Omnichannel marketing allows you to increase your traction through targeted messaging with its omnipresent visibility.
Better Data Analysis:-
You can segregate customers easily when you have customers from all the platforms with streamlined connections. Easily bifurcate them based on the channels and find the authenticity of your campaign.
You can extract the touchpoints of your customers and the platforms where you get the maximum and the min traction. Based on that, you can mold your strategy find the weak areas, and get better results from there as well.
Better User Experience:-
The user experience is overwhelming here. The reason being the visitor can feel easily connected with you. You and your user are on the same page, he wants what he sees, and you deliver the same without any other context. That makes it easy for the user as well as for you! The seamless experience also results in effective sales and customer retention as you proceed.
Multi-Channel VS OmniChannel
According to Harvard Business Review, "73% of the shoppers visit multiple platforms before making the purchase."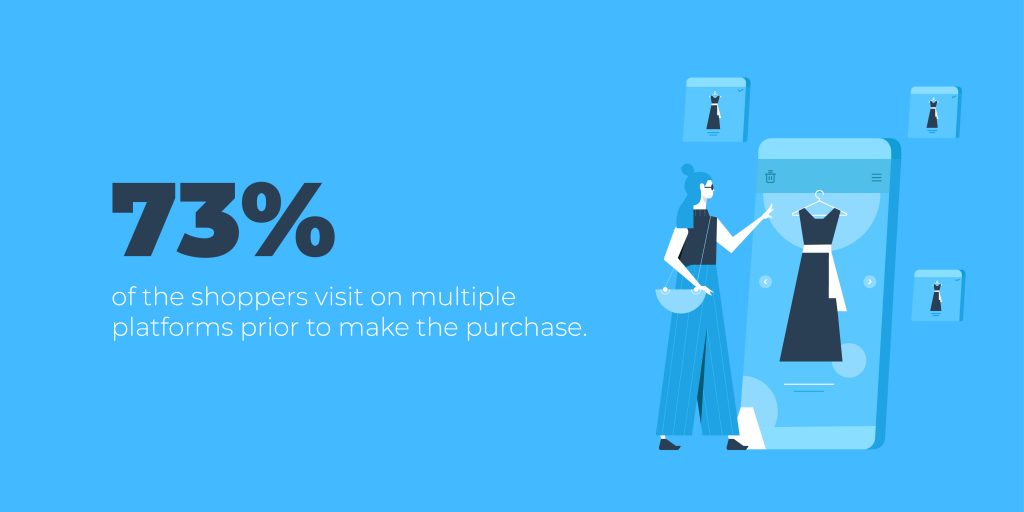 But these are two different things, named Multi-channel and Omni channel.
Let's look at how these two are different from each other.
OmniChannel
Multichannel
1. All channels or platforms are catered

2. All the channels and platforms are completely synchronized and integrated with each other.

3. In Omnichannel, it is very important to have a targeted approach, messaging, and brand guidelines similar to all platforms.

4. More Customer-centric

5. Provides Seamless customer experience.
1. Multiple channels are catered here, but using all the channels and platforms is unnecessary. If you use two or 3 of them also, it will be deemed as multi-channel.

2. Not vital to keep all the channels in sync.

3. Here, you can market on multiple platforms for different products and services with different approaches, messaging, and guidelines as per your will.

4. More product-focused

5. It limits the customer experience depending on the channel or platform the consumer is using.
Therefore, it completely depends upon whether you want to opt for Omnichannel or Milti-channel.
One of the major differences mentioned above is the 4th one. That states omnichannel as customer-centric and multi-channel as product-focused. Omnichannel patterns focus on the customer journey and enhance the relationship between the customer and the brand through all the touchpoints.
Whereas the multi-channel directly focuses on the product, its marketing, sales, and increasing its online visibility.
Depending on the same, you have to form your strategy according to your business's mission and vision that what goal you have set and need to achieve. And, then, choose the path which is right for you!
Key Takeaways
So, opting for omnichannel marketing helps you create a relationship with your customer directly,
Wherever they are,
With unified messaging and customer experience
At the right time.
Therefore, if used correctly, Omnichannel marketing can be a gem for your brand and give you loyal customers!
All you need is the right mentor to guide you on the right path.
So, search for the one and move ahead.
In case of any query, you can come down to the comment section and also contact us.
By then, adiós, mi amigo!