9 essential types of SaaS tools for small business
Do you know why SaaS is so widespread today? It is accessible, affordable, and supremely scalable. You will find this profound statement almost everywhere when you read about SaaS. But these three aren't just words in SaaS. They are the very foundation of it. And thanks to this software as a service, many small to medium-sized businesses have scaled their potential. And today, we will see what types of SaaS tools are or can facilitate this journey for small businesses. 
SaaS companies are growing in leaps and bounds because of this giant bowl of assistance that they are serving to many across the globe today. In our attempt, we address these needs as tools that contribute immensely today.
Here's looking at all that we plan to cover here.
Why are SaaS tools essential for your business?
What are the types of SaaS tools you will need today?
Team Communication
Project Management
Customer Support
Customer Relationship Management
Sales Management
Process Management
Marketing Automation

Email Marketing
Social Media Marketing
Why are SaaS tools essential for your business?
38% of organizations today are already running entirely on SaaS operations, as per the BetterCloud survey. And this number is sure to surge is what we believe in because the reasons are such.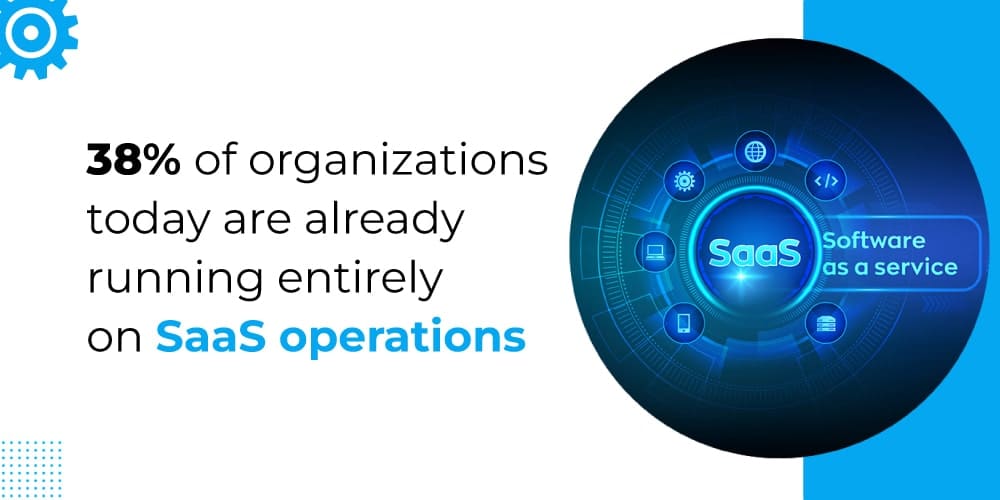 The affordability of SaaS tools helps small businesses opt for them. In addition to productivity increase and operational efficiency, SaaS has been a boon. Besides the lucrative benefits it offers, it is worth all the attention. To add more to that narrative, SaaS not only thrived but also boomed during the pandemic. It allowed work to happen remotely, with all the necessary business tools. That facilitated communication, management, data analytics, and whatnot.
Also read: Why you need SaaS today?
This scaled-up potential grabbed everyone's eyeball and is now leading the SaaS market to the growth of 9% CAGR (Compound Annual Growth Rate)!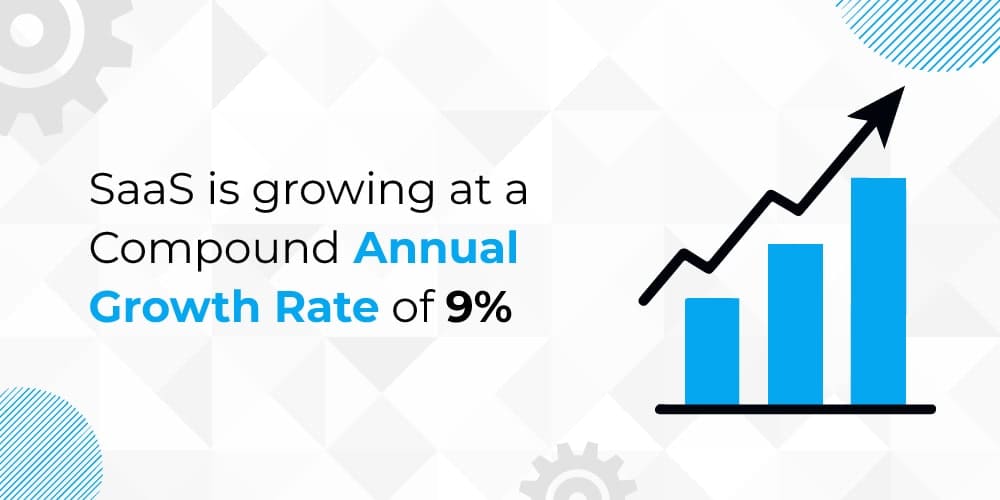 Which is why paying attention to what comes next will be your deal-maker in SaaS.
What are the types of SaaS tools you will need today?
We did mention about 38% of businesses running on the SaaS model, but we didn't mention the SaaS tool average in use. It's 34! Sure, confusion is bound to happen at this time of decision chaos with SaaS tools. And that's why we identified a few critical tools that would shape your business trajectory. These are necessary if you are a startup or a small to mid-size business.
Team Communication
Ensuring smooth team communication when sitting afar and not feeling the distance at work is one of the best possibilities with SaaS team communication tools.
Thanks to tools like Slack, Zoom meetings, or teams ( more of these are around, though) which have a SaaS build-up, let team members communicate freely with wide accessibility. 
But you know all this can go for a toss if there comes a communication gap?
So how can your business ensure that's not happening?
Sealing off the communication with the following communication types can make you win.
Messaging and chat apps (e.g., slack, Microsoft teams)
File-sharing applications (e.g., google drive, onedrive)
Video conferencing tools (zoom, skype)
Document edit software (e.g., google app suite, Microsoft 360 word)
Project management platform; that account for collaboration, accountability, communication, and responsibility (e.g., Zoho, ClickUp)
Having all these in one place with the right team communication saas tool will do it all for you. And since we mention project management, the following section helps you with an elaboration.
Project Management
Project management is crucial for any startup or larger organization. Because as mentioned, it helps analyze the teamwork and map the responsibility. But that's not enough for you to know. Answering what a project management software or tool would do for you is important. So make sure you check to mark these while finalizing on a tool/s.
Lets you have a better understanding of users
Manages your right requirements and scope for the project
Manages your feedback collection
Helps you manage your resources and workload
Lets you organize and keep your ideas in one place.
Project management tools like ClickUp can be of great help to you here. One among many that's out there. But remember no show fits all. So check all the requisites and the help you are going to gain before fully devoting for any tool.
Customer Support
During the discussion about project management, we mentioned how it is essential to note your client's feedback. But often, customer support is much more than that. After all, 67% of people bail out on subscriptions due to lousy customer support. And on the other hand, 82% of customers stick to it when they get this support personalized. In fact, customer support impacts sales 4 times more than pricing.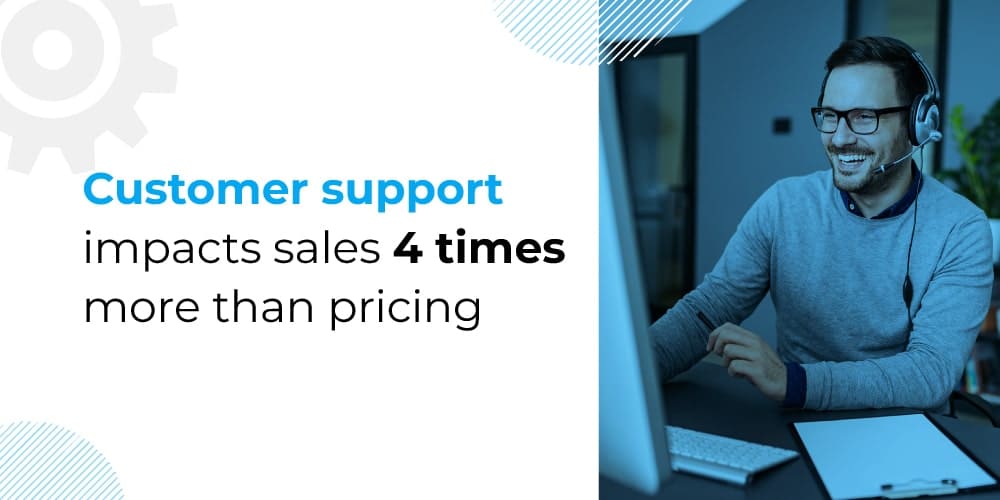 So how do you ensure you deploy the right set of tool/s? Keep reading.
First, identify the proper channels to communicate with your customers/ clients
Plan and draft a strategy on the basis of your customer's expectations
Find, collect and educate the best team of professionals.
Organize and keep all the queries
Make sure to track your customer conversations.
Follow up with metrics to see the progress.
Automate redundant activities to make it a better support process
Some tools that can be of aid are, Zendesk, Trello, Slack, and more.
Customer Relationship Management
We talked about customer support, but support comes secondary managing your customers/ clients well will always come first. So having a saas tool for handling CRM is the best thing. Besides, SaaS CRM software helps you store interactions and client data in one centralized place.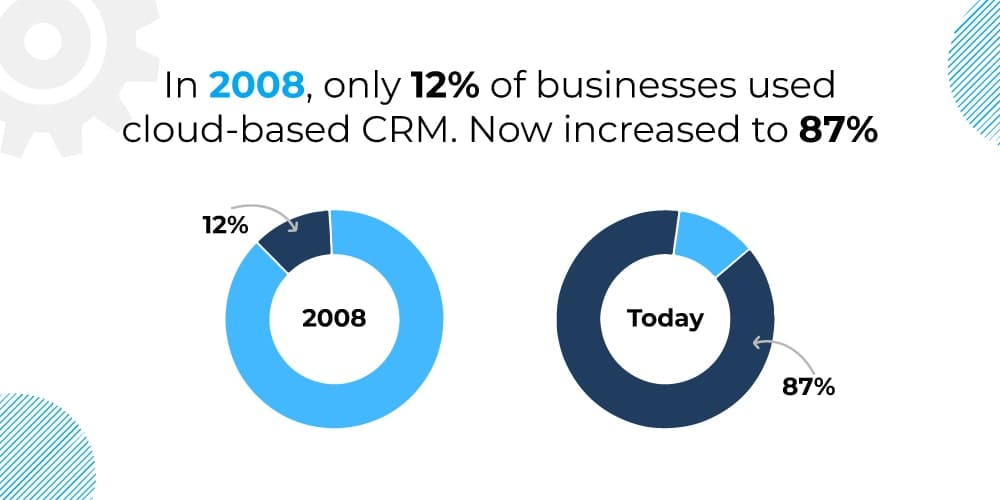 In addition, the features that come up with this affordable bit are phenomenal.
You get to Manage contacts,
Track leads,
and Automate your sales and marketing
While most of the SaaS tools offer customer support, pick up the one that fits the bill. A widely known of this would be HubSpot, among many that are out there.
Plus, the benefits of CRM are too good to miss out on. You shine and get:
Strong client relationships
Centralized sales
Improves your customer retention
Identified gaps in your sales process
Productivity increases (automation plays a huge part)
Simplifies the work,
So that's a lot. And since we have been mentioning about the sales. Time to look at our next important type.
Sales Management
Having a SaaS tool for this is critical. Especially when you are starting because this not just helps you manage but adds to that sales graph. And over time, your sales management picks up that pace you need.
Also, if you automate some of your sales activities, then you can better manage communication with the clientele. When you get hold of a sales management tool, it should do these for your business:
Help in lead generation (where you adjust your strategy based on the collected sales information)
Sales opportunity improves
Helps with the integration with other software tools (for better sales improvement)
Provide you with increased visibility of sales insights.
But sales management needs more streamlining. And to make sure that happens, you will be in need of a SaaS tool type that helps in managing your processes.
Process Management
Process management or business process management is not crucial. It is what makes things work. To have one in the place is what is needed. Because that type of software prepares the business to
Design
Model,
Execute,
Automate
and improve
A set of tasks after whose completion the team achieves the set goal.
Your process management will be a smooth ride if your software helps you with the following:
Testing tools to check how the processes work
Process mining tools for finding out tasks that drive the business
A diagramming tool to help you understand the process flow
And much more is now possible for this processing. And since AI and ML have been making heads turn in SaaS, processes are getting helped with these too.
Which pretty much makes it to the next type of tool, which is data analytics. Because often you get sets of tools that help with process management where analytics is a part too.
Analytics
So far, while discussing SaaS and in the previous segments that I covered, one thing was evident SaaS applications or cloud computing is pretty much around us. And we cannot shake it off. When you are running a business, analytics plays a huge part in understanding whether your directions and work are going well.
And to justify further, with the pile of data that gets accumulated thanks to the cloud, employing analytics:
Smoothens the business process
Helps in maintaining the brand you create.
Overall, data analytics is a practice where you interpret the data and churn out something meaningful to help you further your business process.
When you invest in analytics, you get to
How your visitors find your website
Identify and analyze your target audience.
Helps you learn what your visitors are neglecting about your website
So yes, investing in the right analytics tool will help your business correct. An apt example of that would be Google Analytics. More is out there, this is all a suggestion we have tried and experienced.
But so far, there have been quite a few mentions of automation. But how does it help? Let's follow.
Marketing Automation
You might be familiar with the word marketing automation. But what is marketing automation? In simple terms, it is a process where marketing activities are automated using the software. Via which contextual messages are sent to the users through the proper channel and at a large scale simultaneously.
Marketing automation is vital today. Because it saves you the much-needed time for better performance and not just that, it:
Lets you send a personalized email to your prospects with quick resources for better user acceptance.
Lets you direct the customers with onboarding messages and nudges for a smooth journey rather than them calling and seeking help with customer service.
Helps you send timely communication regarding an update or offer
All in all, using a marketing automation tool will let you deliver a lot more and better than you would have done manually. And since we are mentioning marketing automation, there are some types to it that you should be familiar with and include: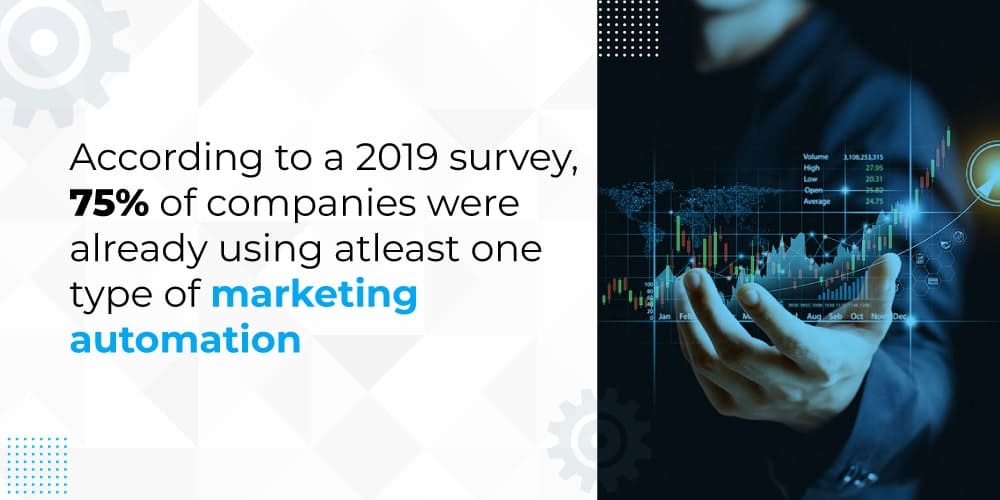 Automation for:
Email Marketing
Social Media Marketing
In-app user communication
Self-help support,
And a lot more. But these are essential tasks.
And since we mention email marketing and social media marketing, it is time we unfold these significant fronts.
Email Marketing
Emails still work. Yes. And they impact well. And further the growth of customers. But that happens only when you take up the right automation tool. The correct email marketing tool should help you and be capable of being:
Provides you with tailor-made themes
Has automation based on the user's activity
Does audience segmentation
Helps in designing emails without HTML
Gives pre-build email templates
Sends the right message to the users at the right time
Easily integrates with any website.
Emails to be sent to subscribed users
And much more. These are just a few possibilities you should consider so that you can drive those campaigns fully.
Besides, social media marketing automation also demands much of your business's attention. Here's to that final segment. 
Social Media Marketing
We all know by now how social media platforms work. Then how come automation helps here? Isn't it all about personalization? It is but automation here helps with the following:
Helps in engaging and Interacting with customers and prospects over many networks
Tracks inbound and outbound brand mentions
Helps in managing social media marketing campaigns
Ensures effective social media presence (because that matters A LOT)
While scheduling posts to send custom messages to customers, of course, much more can be done when automation is at hand and with social media marketing. But you must realize what you need and stay moderate with these types of SaaS tools. Because it is easy to get carried away by them.
Penning Down
We are now sitting here at the end of 9 formative types of SaaS solutions or tools whose outline has been shared with you. Solely for the reason to highlight that if SaaS is inevitable, why not make the best use of this cloud-based solution for your growing business? 
A few examples have also been shared during our discussion for you to explore. But trust us, much more lies outside. This is only a teaser of what SaaS companies hold in terms of potential. If they are winning and growing, there are multiple reasons for that growth.
So go ahead, take the leap of faith. In addition, we are always here to resolve your queries and doubts. You can connect with us or drop us your views in the comments. Until then, thank you!