For CEDCOSS, Health and Hygiene first, always
Every year, we decide on resolutions and create a to-do list of plans we wish to execute. And before the pandemic hit, some of us were even getting the hang of it. But the 2020 to 2022 transition made us feel grateful for being able to survive the darkest of times. Had it not been for our government's timely action and phased distribution of vaccines. The situation would have been even more unpredictable. Health and hygiene have become more crucial than ever before.
Although, 2022 saw a recovered face. After two years of struggle, things started to look back in shape. And when we are discussing this, the tremors of a probable return are around the corner. But should we be worried? Let's find out.
What CEDCOSS aims?
CEDCOSS has been an active player in all walks of life. We have ensured agile movement across important domains that can impact the bigger picture inside and outside its premises. Like with Covid or maintaining basic hygiene around us. We are believers in supporting a healthier space.
When covid-19 locked us in, our hybrid working culture helped us grow even in trying times. And when personal hygiene concerns mounted, we took it up our sleeves to clean. All done to further our cultural values of health and hygiene first.
This is where we now throw the light on our collective initiative.
How we stepped up for the vaccination drive?
By the time you are reading this, more than 90% of Indian adults are fully vaccinated against covid-19 in India. All because of a joint effort the Indian government took with all the industries.
While at the very beginning, the jabs were administered through registrations via CoWIN (Government application for Covid measures). The government allowed employers of both private and public sectors to initiate and conduct vaccination drives. But ensure all the guidelines are rolled out.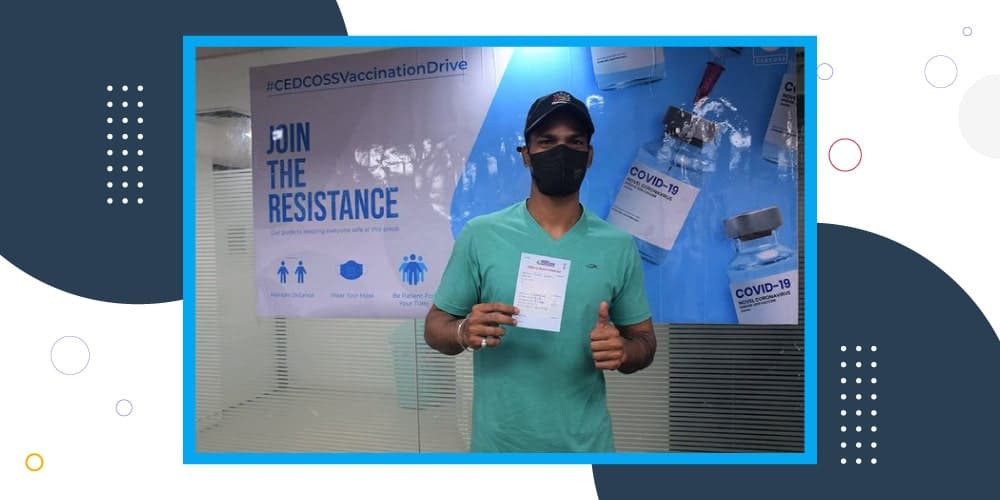 We became one such employer. Where we conducted the vaccination drive in association with Sahara Hospitals. Keeping in mind all the safety protocols. The vaccines (available via Serum Institute of India and Bharat Biotech) were procured with the hospital's team.
We maintained social distancing to prevent the spread and sanitation during the course of the drive. And we also ensured the following things for maximum participation.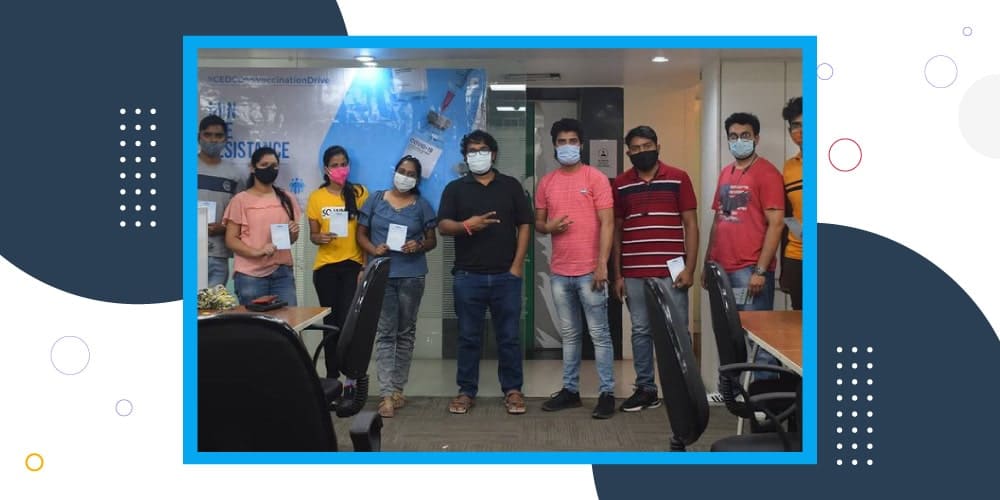 Vaccinated the employees on our premises
Reimbursed vaccination amount for those getting vaccinations elsewhere
Provided care and necessary monetary backup (if needed)
Thrived with the work-from-home culture
We also made sure to complete the two doses of vaccinations within the premises. And joined the nation in being the 2nd country to complete 2 billion covid jabs.
Why we conducted the drive?
The vaccination drive's intention was to ensure a safe workforce. To be careful and protective of our workforce's health and hygiene. When the pandemic became severe in 2021, the health alarms were terrifying. Losing out on family, friends, and closer associates came to us as a complete shock.
So when the lockdown eased, and vaccination became available for adults, we decided to safeguard our team. Because only then could we think of moving forward. Together with everyone.
We became one among the 70% of employers who stopped people from joining the premise until fully vaccinated. To avoid being spreaders of the deadly virus attack. As mere soap and water couldn't be the only guard.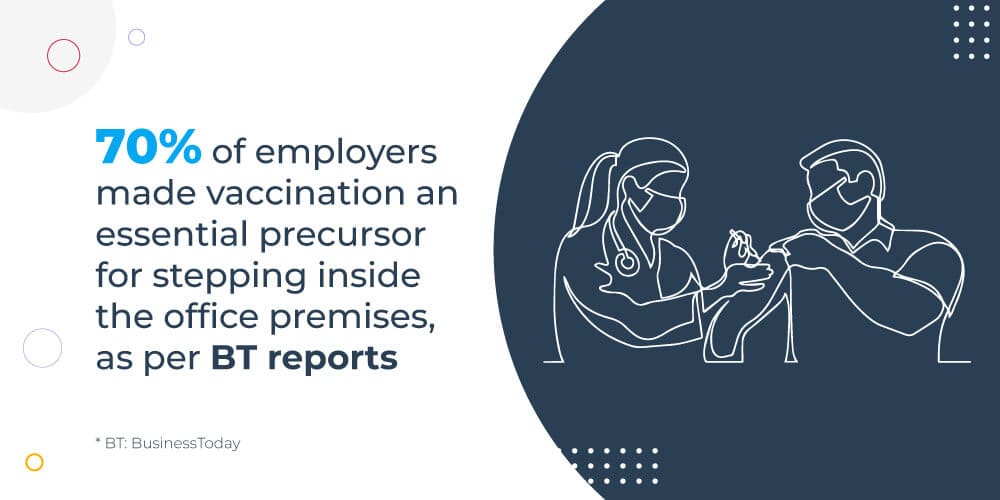 CEDCOSS moves out for cleanliness
Right after things started to take shape in 2021, we were more inclined than ever to ensure safe and hygienic surroundings for everyone sharing the same air.
Because although the frequency of cases subsided, the concern was around. And why just for covid, isn't this our moral responsibility to take charge of the space we use freely?
Looking day in and day out at how manual scavenging and rag-picking were hurting the health of so many. We became more resolute in the idea to ensure a trash-less surrounding for all.
So we picked up the brooms and walked to the open land beside our premises to curb the situation by a fraction.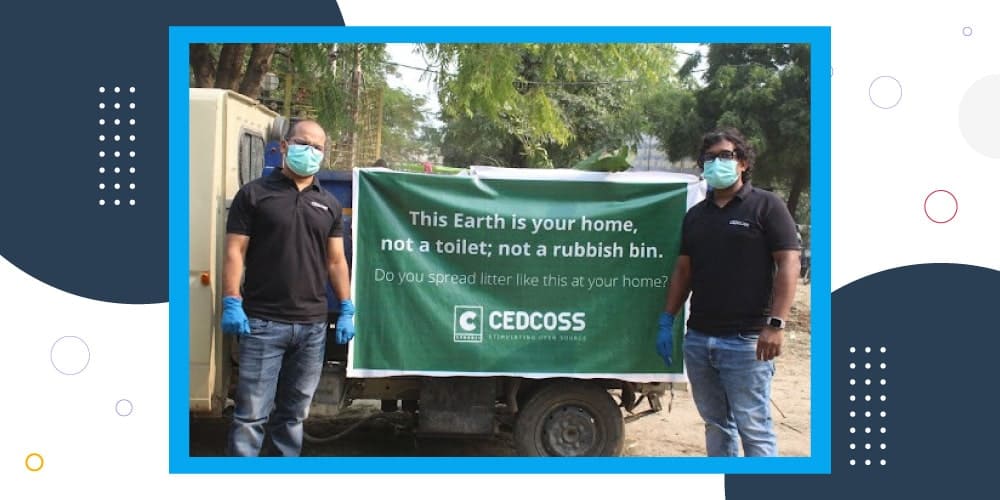 This also comes in the wake of horrid statistics that say 3 sanitation workers die at work every 5 days. And health hazards for rag-pickers are only surmounting. In addition, initiatives like these transform behavioral patterns promoting healthy practices for all involved. Because health and hygiene is always a surmounting concern.
Besides, the central government has also taken apt initiatives under its Swachh Bharat campaign, inspiring us further to take this up.

And we did it! Together with the support of the entire CEDCOSS team.
Why we chose the occasion of Diwali?
Every year it is customary in our households to clean homes before the festival of Diwali (festival of lights) arrives. We do it to bring prosperity to our homes. This is why we chose the pious day of Dhanteras to clean our vicinity. Because prosperity shouldn't only be restricted to our concrete boundaries. Right?

To further spread awareness on occasion, we mobilized the team with insightful messages. Provided resources for cleaning and jolted enthusiasm for the noble cause.
The clean space after the drive made our efforts look totally worth it!
The aim for the days to come
CEDCOSS never shies away from taking initiatives that leave a lasting impression. More so, with good intent. We have been coming ahead with philanthropic activities only to light a selfish notion of seeing the world in a better sight.

Be it charitable shares, mindful donations, or securing complete well-being. We are trying to do what best we can pull off.
Because it is not about the big gestures but small initiatives that are impactful in real. Signing off this time in hopes of doing more good in a better way to drive out the best.