This is what you need to know about AI in CRM.
Statista claims that the global AI market valuation stands at $142.3 billion. Where global giants like Google, Microsoft, and Salesforce are escalating the use of AI. Another section of the market today is on its way to using AI in CRM.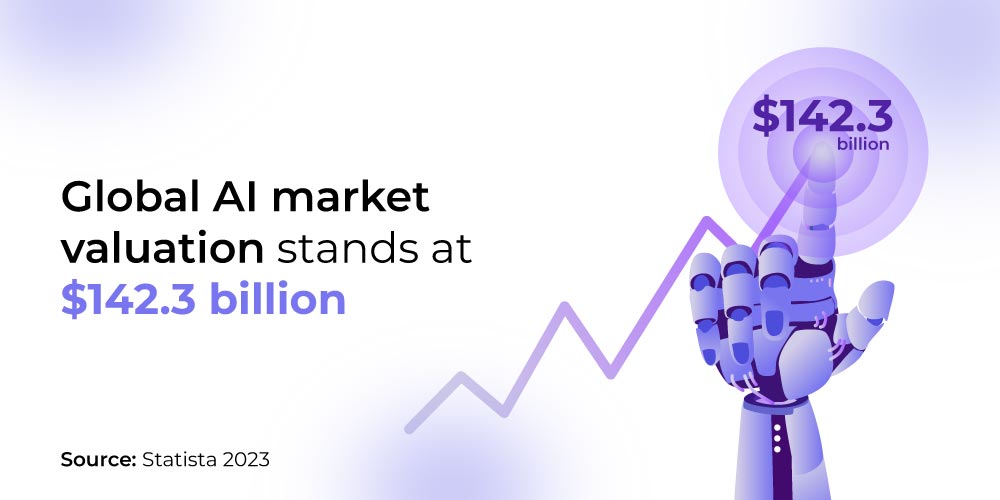 But why AI? Artificial Intelligence has already made its way into CRM while you are reading this. So much so, HubSpot is now using it for delivering Content Assistance. Moreover, Sharda Kumari, a leading digital transformation authority, in a discussion with Hindustan Times, said that "AI technologies are radically amplifying CRM capabilities."
Hence in our discussion today, we see the extent and deal with this technological advancement of AI in CRM. We, therefore, look into the following:
What role does AI in CRM portray?
Opposed to natural intelligence, AI today is using:
Machine Learning,
Text Analysis,
Voice Speech Recognition.
And they are becoming essential in business applications across the globe. Because cloud-based CRM is developing a hold and handling the big data set, AI in CRM is proving efficient.
AI-enabled CRM is today taking up and shaping;
"Collected records into automated insights."
What is it doing?
The assistance is making a way in terms of:
Determines the best contact individual to convert.
Helps the sales team focus on suitable leads.
Draws insights on your current plan of action.
Analyzes the sentiments for a better relationship arc.
The system undergoes constant evolution with time.
Automates the routine business processes.
Making natural conversations with the customers in resolving smaller issues.
Besides undertaking the mentioned duties, AI is making ways in conversation (looking at you, ChatGPT). Which is just one of many ways AI is transforming. To talk more about it in the following section you will understand the ways Ai is stepping up.
Ways AI is transforming CRM
Clearing the misconception that AI will replace humans is important here. AI may deliver efficiency, but it still needs human monitoring. The same can be said with its ways of transforming.
Sales representatives are free of manual data entry and get the data in a centralized format. Which adds to understanding and seeing the complete customer life cycle. Along with rich categorization. That, in turn, contributes to insight-rich CRM.
CRMs capture data. A lot of it. Which often consists of junk as well. If research by Dun and Bradstreet is to be believed, then 91% of data in CRM systems is incomplete. This impacts the pipeline. This is where AI steps up, as it can detect anomalies, faults, errors, and so much more.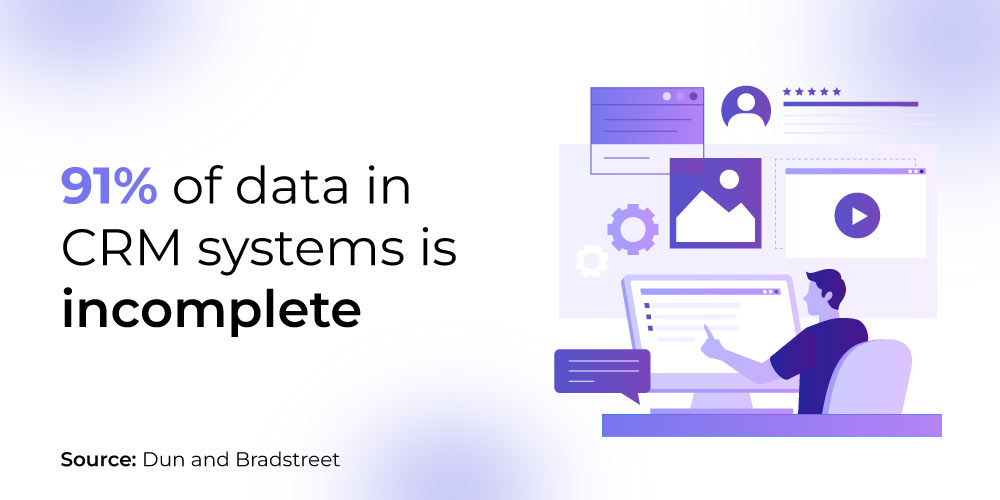 We mention Sentiment Analysis, but what does AI do there? So take this, for example, with a virtual medium, your sales representative interacts with your customer. But virtually, over a phone call, it is getting difficult for your team to understand them. So AI learns the voice, assimilates the customer's feelings, and brings you the data to best respond to them. Tools like Cogito are central here.
Lead scoring is promising because AI analyzes the customers' history, geography, and demography to access. The traditional this then approach we practice is different from what AI takes. There is a complete interaction analysis with the clients.
In times of personalization AI in CRM is prompting recommendations to the executives that best suit their likes, interests, and wants. Often suggesting 'why' a specific segment needs that treatment.
Since AI in CRM serves as an eye-opener. Further discussion on who is doing what today will help us trace the activity.
What's happening around the world
Google
Google, in partnership with Salesforce devices a unique proposition. Google's cloud and Salesforce's CRM integrate for healthcare. Where CRM data (like feedback and appointment) gets clubbed with non-CRM data like patient data and medical history. To give personalized suggestions for care plans. AI here drops the help in recommending the next action plan for the patient.
This partnership also plans to extend support to retail and finance. All done to reduce costs, complexity and personalize the experience.
Hubspot
Global investments in AI startups saw an increase of $5 billion, according to Statista. Hubspot took the AI integration with open arms by introducing a content assistant and Chatspot.ai, which aims at:
Helping customers have more meaningful interactions.
Leading the sales team to ideate, create and share better content.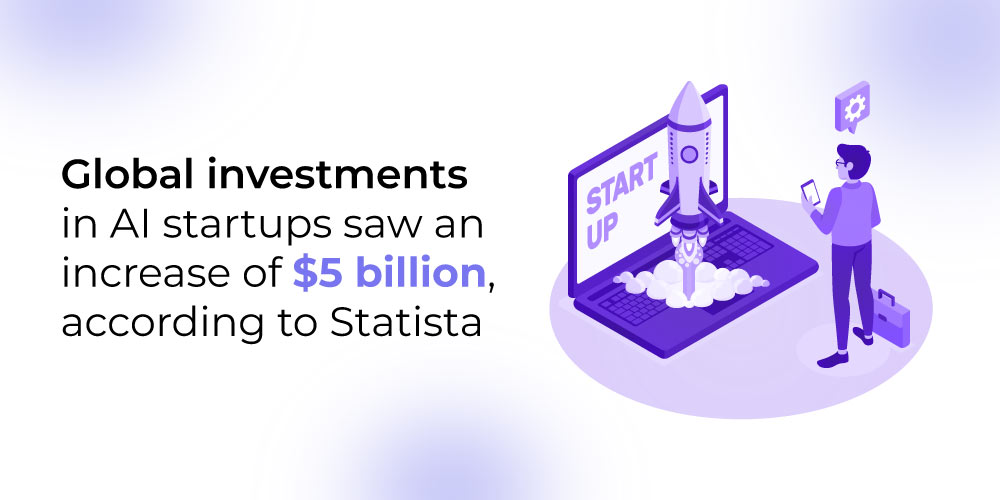 Whereas Chatspot.ai helps with the following:
Task completion using natural-language support for customers.
To make the software use easier.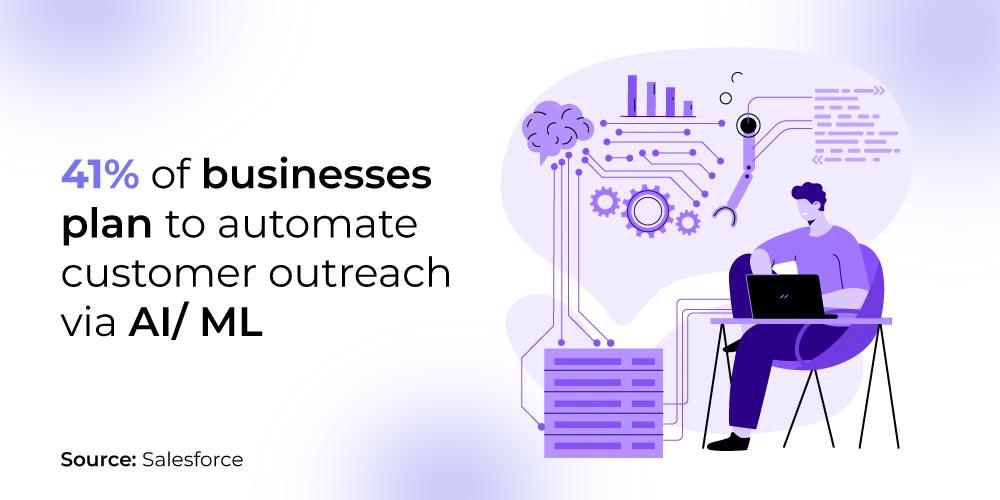 Microsoft
The team announces an AI-based extension to Dynamic 365 and ERP software called Copilot. A tool with a model similar to OpenAI's ChatGPT. It aims at helping with the following:
Answering questions
Summarising conversations and notes
Creating content
Which is enabled in Microsoft Teams, Power Apps, and Viva sales.
However, AI in CRM infusion could be better. Here's more to add to that understanding.
Risks and challenges of AI in CRM
There are certain limitations/ challenges when it comes to AI, say: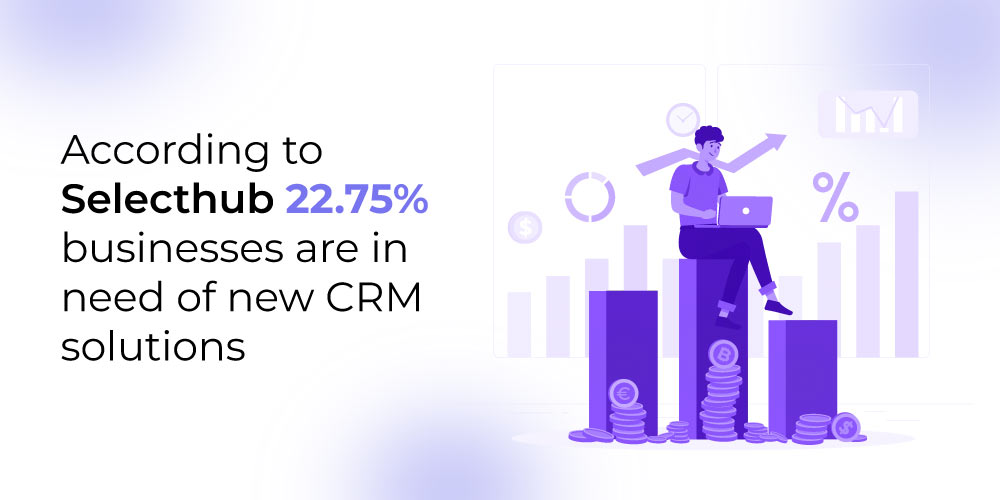 Lack of data availability can hamper the task of AI.
Cost can be a concern if in-house talent or source is unavailable to run the AI.
This brings us to the technical staff shortage aspect. If skilled staff is absent, then things can go south.
This may lead to a less satisfying customer experience with reduced interaction.
Also, read: Mistakes you might be committing in implementing CRM now
Over-reliance can cause oversight leading to unfavorable circumstances.
It is not free of miscommunication and misunderstanding.
Maintenance of the software is a must. AI works for you if you can commit to the timely update and process. If not, it doesn't.
Integrating the system can be a tough call.
The viability and usability of the technology need sincere consideration before investing.
Besides, you have to consider the following:
The lack of transparency
The complexity of the technology
Privacy of the customer
If you can overcome these, the benefits to reap are ample.
Benefits of AI in CRM
The benefits of AI in CRM pave the way for many possibilities. To reason this out why you should look out for these benefits:
CRM with AI is a combination that serves as your assistant for follow-ups and meetings and takes notes, among many other routine tasks.
Can take up as the first contact point as a salesperson to the potential lead. When the first step is done, the salesperson takes a close call.
Sales close are better because, according to a Harvard Business Review article on 'How AI is changing sales,' AI influences 5 core areas: forecast, upsell, cross-sell, performance management, price optimization, and scoring lead.
Helping with all such fronts, the benefits that AI in CRM is reaping include:
It efficiently processes the multi-format and unstructured data pile.
This integrated data thus enhance the business performance.
AI-enabled CRM promotes inter-departmental collaboration.
It prevents employee burnout, as manual tasks are quickly taken care of.
With AI, customer support is more personal and targeted, leading to an overall increase in customer satisfaction. After all, there is 24/7 availability too.
Adds on to the decision management.
AI-enabled CRM charts out an apt customer profile to shape your interactions.
AI in CRM collects relevant data, increasing customer confidence in your brand.
Response times to queries are faster.
On-time messaging to the customers.
Better discovery of the root cause of problems to weed them out sooner.
The volume of queries that come in is better processed with AI-enabled CRM.
In Conclusion
Choosing and joining hands with AI in CRM is impossible for everyone, but the choice is clear and available. All you need is to keep up with the changing times that suit your business better. Because it is about how well you manage your CRM.
In today's discussion, we aim to help you with a walkthrough of the current scenario and what is possible today with AI in CRM. We may not pick up everything, but more suggestions are always welcome. So please connect to us if you got queries or suggestions. Till then, keep reading!