What is the importance of CRM in different industries?
The importance of CRM is visible when we read its market size was valued at USD 58.82 billion in 2022. And will have an expected CAGR of 13.9% between 2023 and 2030, according to Grand View Research's report.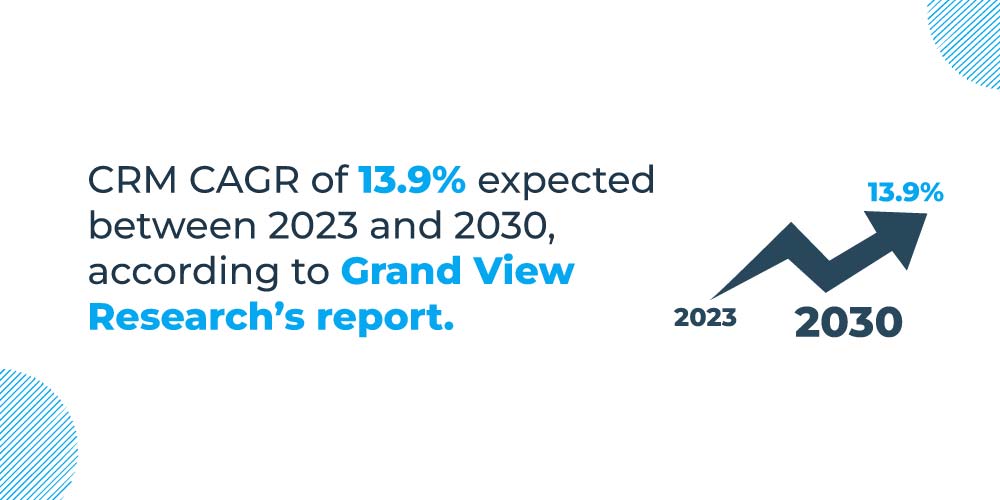 CRM, or Customer Relationship Management, is a technology now getting tapped by many businesses and industries. All because it gives businesses the edge to stay ahead of the competition. In a world where everything is fast-paced, CRM contributes significantly.
With its multiplicity today, it becomes essential to realize who actually needs it and how CRM shapes the journey for them ahead. And that's precisely what we attempt to do here via the following sections.
What are the types of CRM technology available today?
The word CRM technology has been up and around for quite a long now. Starting back in the 1970s as a concept, it focused on surveys, feedback, and customer data to measure customer satiation. And today, that same concept has grown into strategy, including processes, principles, and guidelines. Which companies use during the customer life-cycle.
Furthermore, the technology with a predominant inclination for serving relationships with customers is broken down into three types today.
Cloud-based CRM solution
In our previous discussions, we have seen how CRM is an integral component of SaaS. A cloud-based technology that now facilitates access to anyone, anywhere, anytime. Many companies use it today because of the following:
Ease of real-time data access
Elimination of complicated installation process.
The only downside is compatibility issues when one migrates the software to another vendor. And it might cost you a little more than the in-house ones. (But research first, there might be vendors offering it to you at a lesser cost.)
CRM Software
Now, this needs your attention. We have so far mentioned CRM as a technology. Here we talk of it as software whose primary aim is to:
Make interactions more effective,
And productive.
The software is, therefore, in charge of customer-based data collection in one place. Using which companies:
Interact with customers
Track performance goals
Forsee the needs of customers
Recognize and identify customer updates
CRM powered by AI with Human Management
CRM is to better the relationships. Relationships that are nurtured with human aid. Therefore, in today's time, CRM combined with AI is making the process faster, smarter, and better. That is read and understood by humans to craft their next step on the business front.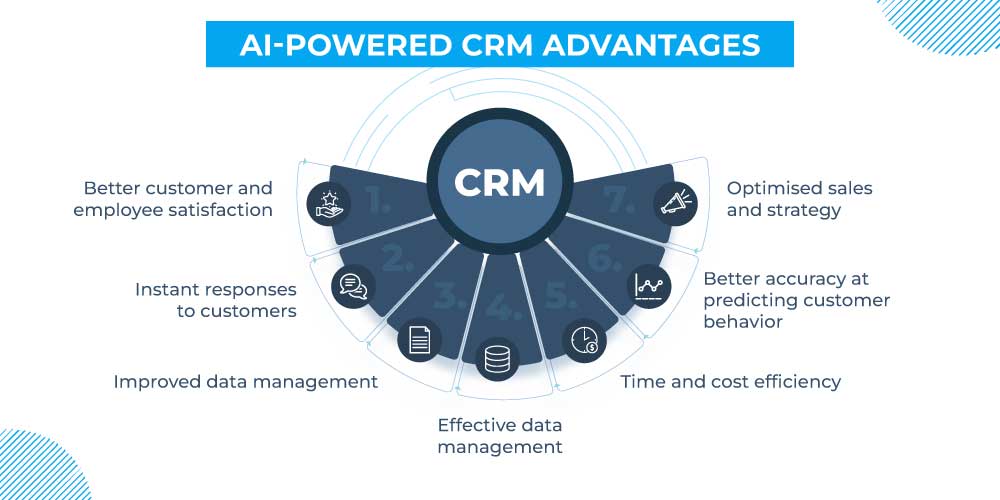 What is AI-powered CRM?
Picking up where we left off. AI or Artificial Intelligence is that bit of technology that's getting combined in many industries. Simply put, AI-powered CRM performs activities that eliminate redundant tasks' manual working. Like data inputs and clearing. Moreover, AI is transforming the face of CRM. In the next section, we plan to unravel that.
In what ways is AI helping CRM
AI has been very transformative. So much is its depth today that, according to Statista reports, the global AI market will be worth half a trillion US dollars by 2024! If that's happening, for sure, AI is getting used. And in CRM technology, its assistance is becoming massive as it:
Emotional Analysis:
On-call conversation makes it difficult for sales representatives to analyze the feelings of their customers. AI tools are now employed to sense their feelings and generate a response in accordance.
Help in data integrity:
With chunks of data fed in CRM systems. Cleaning them becomes a hassle. But not anymore. AI is helping improve the situation.
Account advisor for clients:
Thanks to this combination with AI. CRM is no more just a customer data repository but helps tailor solutions based on individual client accounts.
Lead scoring is compelling:
AI and CRM can better the data analysis in a shorter time. Which helps with valuable insights in converting leads.
Help in data retrieval and storage:
Let's face it, data entry is the most time-consuming and monotonous bit for sales professionals. Almost taking 17% of their time (equating to a day's work). But not anymore. AI is facilitating with speed, centralizing vast customer data, and noting their life-cycle.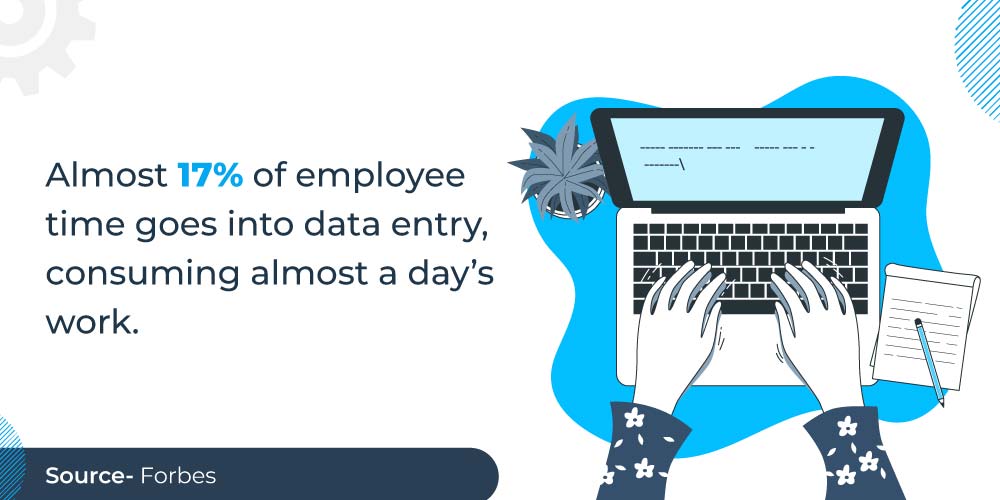 Sales insights are better visible:
Thanks to the lack of data chaos with AI in CRM. It is simpler for teams to look at and develop customer insights from the CRM system.
Fosters social interaction:
AI's customer data management churns out valuable interaction insights. Which the companies can take to further their social interactions.
And thanks to AI, most CRMs today are powered by it. Facilitating CRM and leading to its massive growth and adoption. But wait, how do you know that your business needs a CRM? What determines the decision?
What are the CRM determinants?
Considering businesses' urge to use CRM is only valid. Because the impact it is bringing is way impressive. But knowing when and for what you need CRM makes your growth more directional. So look for the following to identify if you need CRM or not.
Have a sales team.
Have customers and customers' information at the center of your business.
Want to increase business efficiency across work channels.
Your business requires forefront marketing.
You are employed in developing invoices and quotations.
If these seem like a prerequisite, dive deeper with our next section. That elaborates on this further.
What and how are the major industries using CRM
CRM is being used across these predominant industries today, namely: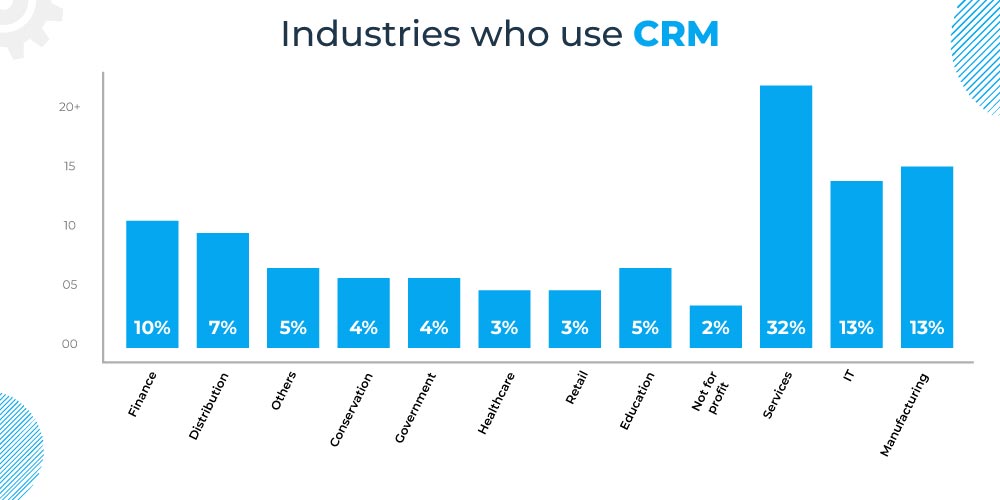 E-commerce
We all know e-commerce was thriving during the pandemic. E-commerce is still thriving, doing more! Reason being it served right on time and to a majority of people. So much so that Mckinsey's report found e-commerce escalate ten years in three months between February and April 2020. And what backed all this up? CRM. This is how: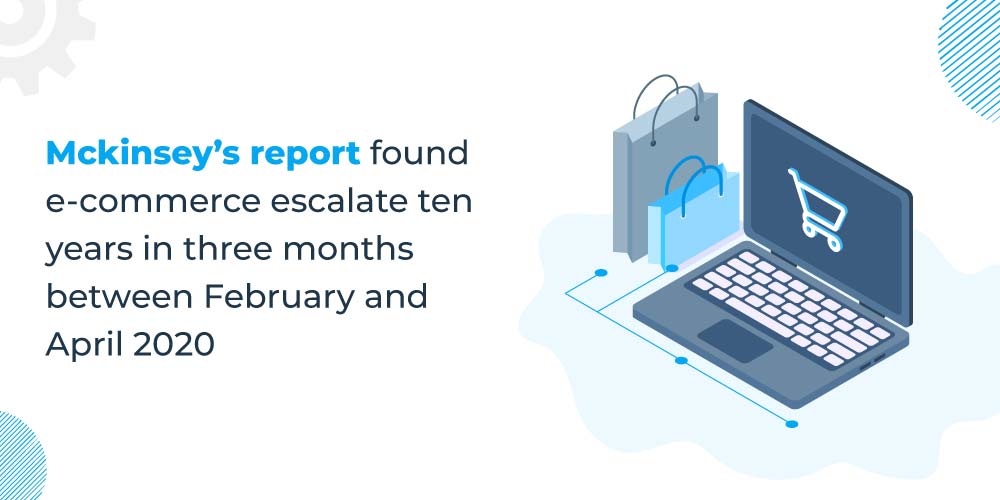 Helps you better understand and know your customer.
Eases the customer segmentation for every type and size of business.
Provides insights and study regarding customer shopping behavior.
Helps you win time-sensitive customer support by unifying all the data in one place.
Your product inventory is well-kept and managed. Because you know what is selling and what is not, so that way, it can be better optimized.
Some CRM systems also provide and come with Business Intelligence tools that are employed for helping with manufacturing plans and processes. Along with sales anticipation.
Your business growth or loss is learned better with the help of CRM analytics.
Develops your understanding of the leads and gives the opportunities to convert them.
To understand this more practically, we connected with our in-house CRM expert, Anjali Singh, Marketing head, who says,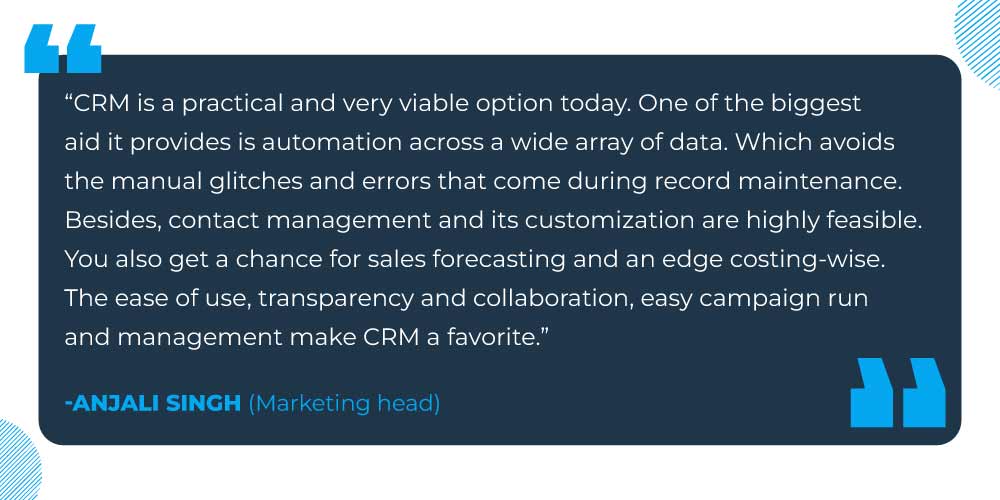 Education
The education sector has seen a phenomenal revamp with the technology boom. Combined with CRM, the industry now attracts, serves, and holds onto students.
The importance of CRM in the education sector can be traced in the following ways:
Streamlining the admission process by handling the student's allotment, course details, and documents.
Helps with lead generation via print, email, and other physical invite forms.
Teacher evaluation is more precise and streamlined.
Students get a central place to resolve their queries. Both during and after the counseling process.
Helps in managing stronger alum relations.
Provides efficient monitoring and management of admission fees.
Generates reports for student and teacher data.
Helps in the handling of the Student Learning Management system.
Hotels
Hospitality industry has made a practical usage of CRM. Besides, the need was evident for them too.
The importance of CRM to the hospitality industry is branding. Since it helps sense the target audience better, targets the rights groups deliver as per customer preference.
In addition, CRM here helps with
Hyper-personalized customer experience with a centralized data bank.
Nurtures brand loyalty with the customers.
Email marketing and reports are taken care of by the system so that the staff can focus on the better.
Ensures a personal connection with the customers to serve them better.
Reduces the sales cycle by repeated visits with loyal customers.
Healthcare
Healthcare CRM is estimated to have a CAGR of 10.4% by 2026, per MedGadget reports.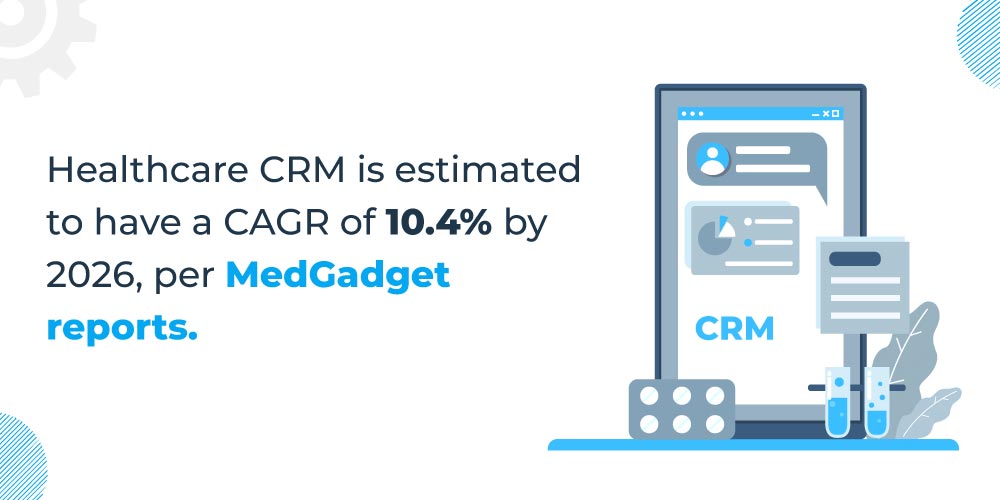 The need for CRM is crucial to healthcare because we all know the massive amount of load healthcare faces in any country. Leave doctors and nursing staff in India has a ratio of 1:670 which should be 1:300, according to WHO.
Besides, the staff isn't a lot either. So the importance of CRM is felt here. Since its imbibe, CRM has been used in healthcare to
Reduce human error in administrative tasks. A majority of which is now automated.
Keeps a tab on the patient appointments and sends timely reminders not to miss the due.
Patient behavior is well assimilated and understood to improve their experience.
Other sectors
Apart from these, the other significant sectors include
Insurance,
Real estate,
Automotive
Retail
Manufacturing
Public sector,
Travel and leisure,
And many more. For obvious reasons, all these cannot be mentioned in one go. But sure enough, the specifications here will give you an overview of how central CRM has become today in critical industrial activities.
In conclusion
The possibilities and growth with CRM are immense today. And it's not something we are saying. As the Economic times' quotes, Statista says CRM will be a 0.94 billion market this year. The job market will also flourish in roles like CRM administrator, Business Analyst, Solutions Architect, Marketing Manager, and so on.
In short, with this blog, our intention was to brief you about who and how they are using CRM. A technology that is more integral than ever. If you have any suggestions for us or would like a more detailed version of any topics. Please feel free to connect here and drop us your queries. Will be happy to help. Till then, keep reading!