What is the scope of a graphic designing career in 2022?
The world is expected to experience a 3% increase in design jobs between 2020-2030. A meager increase. But the hopes for a graphic designing career are not ending anytime soon. Even though the promises with AI are posing a threat. This is why we bring to you the scope of a graphic designing career in 2022.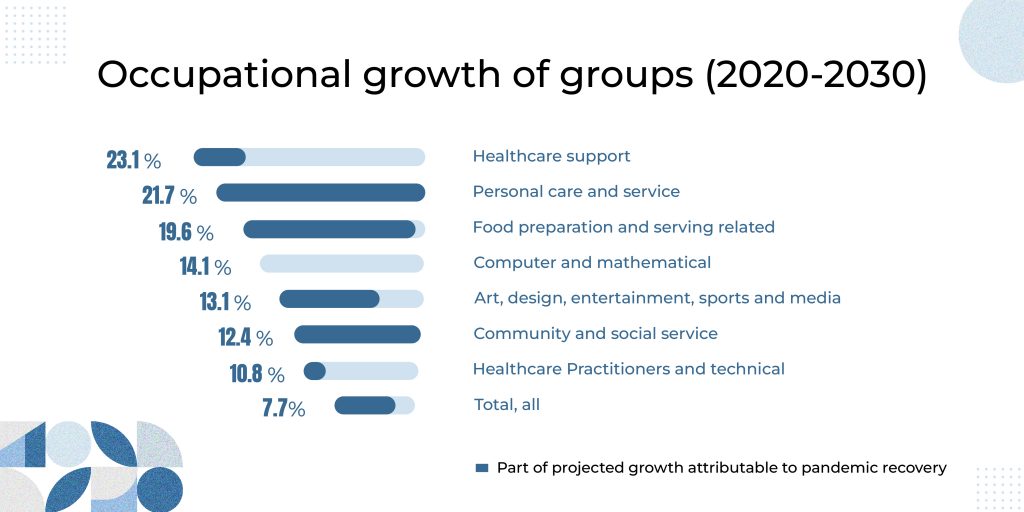 That will address the reason to have a graphic designer on board. So before we begin, here's the encapsulated version of what we are covering.
Defining a graphic designer
Many of you reading this, are probably halfway through your journey in the design world or are freshers seeking jobs in the industry. But a little definition here may help you realign or restart.
Having said that, we got "Graphic designers or graphic designing is the process of visual communication. Often facilitated with a combination of ideas, images, designs, and words. And then presented to the audience for whom the same gets created.
A graphic designer is a hands-on visual artist whose scope exceeds the graphical images around. Because you are needed everywhere. Be it
The website,
An online/ offline store,
The logos or packaging
A movie
A video game,
Or anything that needs a visual eye and handling.
Is AI a threat to graphic designers today?
Although now defined, there is a lot of scrutiny over the role. Since AI tools like Midjourney and DALL- E2 are now partially replacing human labor. How did that happen?
Well, Cosmopolitan designed a cover using AI
A writer of "The Atlantis" also used Midjourney created image for a story
Definitely, this didn't go down well with the designers around the world. And Twitter became a place of outcry. As also with AI stock images are being replaced with tech-fast illustrations.
An example of the same is here
Although Charles Wazel apologized for this "selfish" desire of giving his article an edge in "The Atlantis". But by that time, things had already taken an ugly turn.
Artists around are scared for their jobs and also of probable creative theft. As these Ai generated tools use that work as the base of their generation.
The tool of DALL-E 2 is in its beta mode right now. But the backlash has set the course in tremors.
This is why we now look at the why's and why not's of this technology.
Why
Is AI becoming an option to consider?
These tools are made affordable and fast to meet the high-end demands of the clientele.
It is software that aces dynamism. That is, Ai holds the potential of dynamically personalizing based on the inputs given. An example of this is your Instagram feed. Which is based on your activity, location, check-in checkouts, and whatnot.
Ai holds the option to create several variations based on a SINGLE pattern. For example here is done by Heinz for their next ad campaign.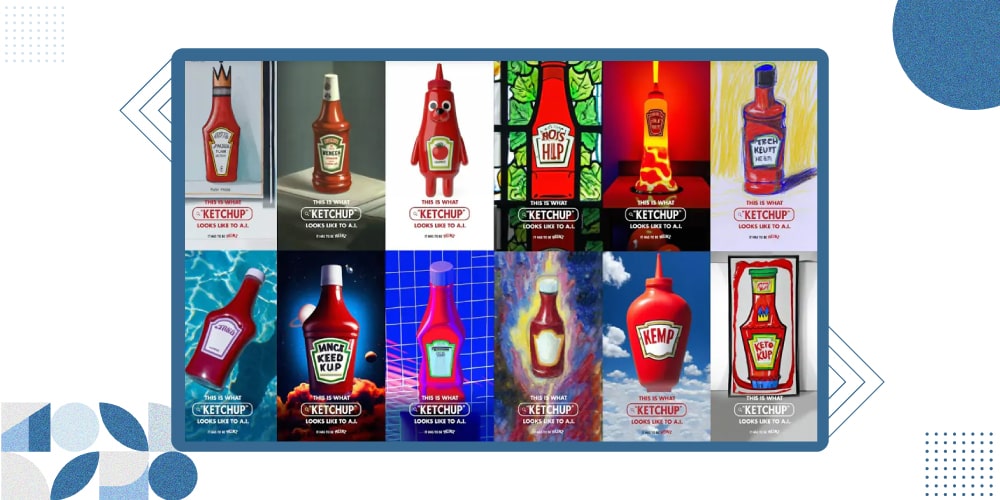 Along with the capability of handling multiple variables at the same time. Now, this is an input most helpful for medical diagnosis. And is aptly getting adapted too.
I know, I know, this is making you nervous. But we have something. AI is not so easily taking up your role. It can't. Because remember, the panic computers created when Rajiv Gandhi brought them to India?
Also read: Non-tech jobs in the IT industry!
Or about the digital world taking away the print media (newspapers)?
The advent of computers created zillions of jobs, digitalization only made print material more accessible.
Similarly, AI is a tool that comes out of you. You are the one feeding it! And that's why we now address the
Why not?
Because AI has certain limitations like
The lack of emotional awareness or subtlety. Makes a lot of their job difficult. Because only a human can tap onto that aspect and churn out an expressive design.
There is no originality. As said before, Ai can operate based on what you feed the machine. It is in no way capable of bringing you something new.
Human touch is still wanted in working. Because hello! We are social animals.
It fails with differentiation oftentimes. This we say when we employ filters. AI fails to register a classic difference. Because it lacks the vivacity our eyes and mind come with.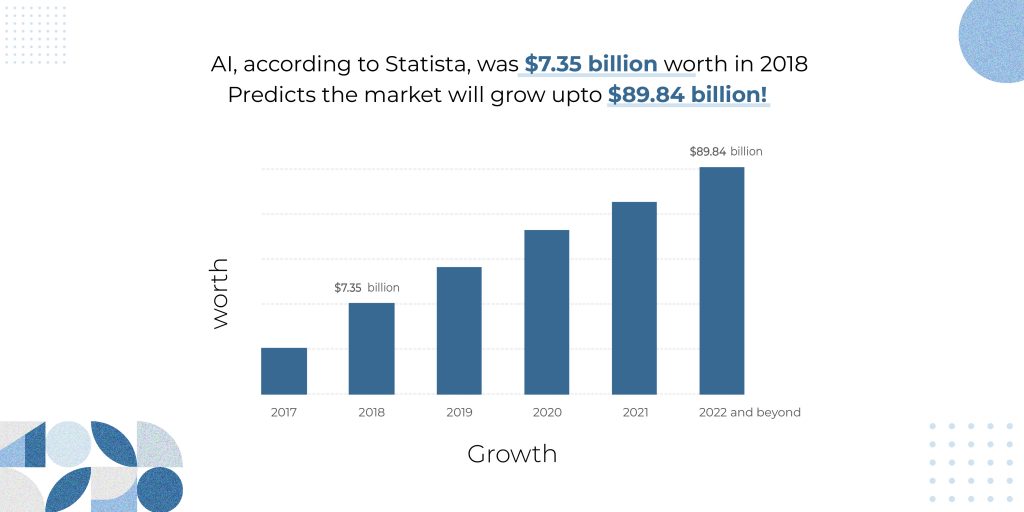 AI uses Machine Learning for work. Something that is not feasible if left alone. Kevin Kelly, the founder of Wired Magazine believes that "AI will augment human thinking with its unique intelligence."
Looking for an opportunity?
Find here
Similarly, Helen Armstrong, a graphic design professor at NC state believes that "Yes AI is very much around and will have the chance to overpower us. But if we take the lever in our hands, it will be more human, of course ethical, and have a clear intent."
So yes, a foreseeable future where AI and humans go hand in hand is what the picture looks like.
And this also brings us to the next section of our discussion.
How can you step up?
-Skills for graphic designers to work on?
-Technical Skills
A lot of job posters will seek designers with the following skills like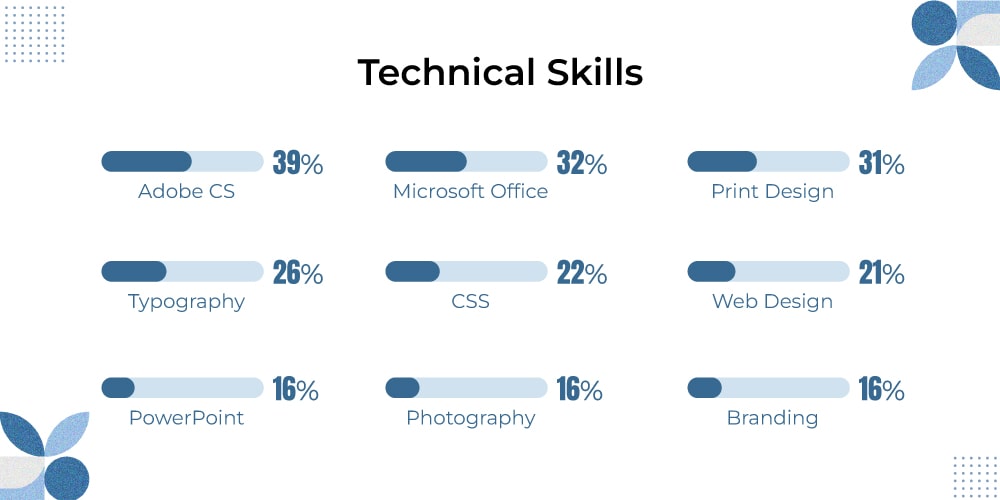 While the Adobe section needs you to be skilled with
Photoshop
Illustrator
Indesign
With a proficiency of say 70-80%
-Portfolio
Ofcourse your degree matters. But being a graphic designer seeks your creatives shining on that portfolio.
Here's something for you (even if you are a fresher) to either format it this way or refurbish on these lines:
A super interactive and second-person "About me" section. OR a section that screams reasons why they should like you.

Education and Experience. (Of course, it counts) This only reaffirms your learnings. But is for sure impactful. So highlight.

Present your style and personality. That is reflected in your work.

Put your best work out. Doesn't matter how small a project was or how minute that input was, it's what you did. Bring that to the table.

Show the formats you know. You cannot know it all and do it all. If you are good at illustration then show all that you are capable of pulling up your sleeve.

Highlight your needs for the job. Just like the employer seeks a designer, you also seek an avenue that would do justice to your work. Be polite and give out your vision.

A contact page to connect with you. Soon after they have seen you.
While for formatting the structure, work on:
Make the site user-friendly for visitors. (potential clients or employers).
Share the links to your social media. This is again for affirmation of your authority.
Learn: Why is LinkedIn essential now?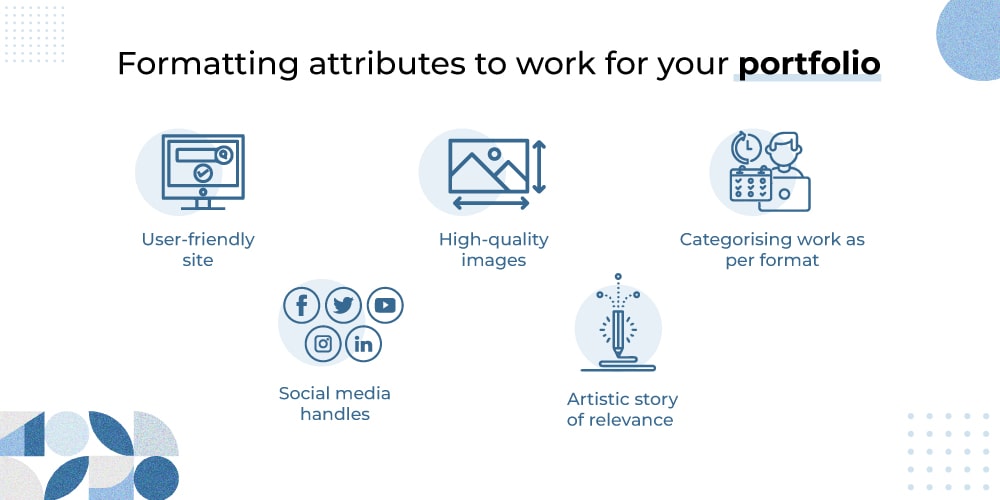 Categorize your work in different formats. (Remember we talked all including all of them?). This brings out more clarity and organization.
And yes, do not forget to share your artistic story. After all that made you come here.
-Interpersonal skills
Your work speaks for you. But sometimes you have to ace the other fronts too.
Say,
Target audience identification– Your design caters to someone. Identify who and how they are getting affected.
Communicate effectively– Listen first and convey. Because your job is such that you shape up what you receive via communication.
Familiarization with the color theory– You identify the color palette based on mood and setting. This helps your creative journey.
Typeface design and layout– This is something that will make your design shine. If you work on these your design communication becomes super smooth.
There is also a lot to talk about roles and responsibilities. But how about you check that here?
(Job board on graphic designer CEDCOSS)
-Graphic Design jobs to look forward
The world is not shrinking with the different graphic design jobs. All you got to do is sit back and list it out based on your skills and interest. To name a few we have:
Product designers (A most in-job of 2022)
Graphic designers (for marketing)
Illustration artist
UI designers
UI/ UX designers
Art director
Motion designers
Layout artist
Web designer
Film editor
Product designer
And much more. That I cannot jot down here.
Apart from the profiles, several industries seek you. Like:
Print and Electronic media
Advertising agencies
Magazines and newspapers
Fashion houses and show business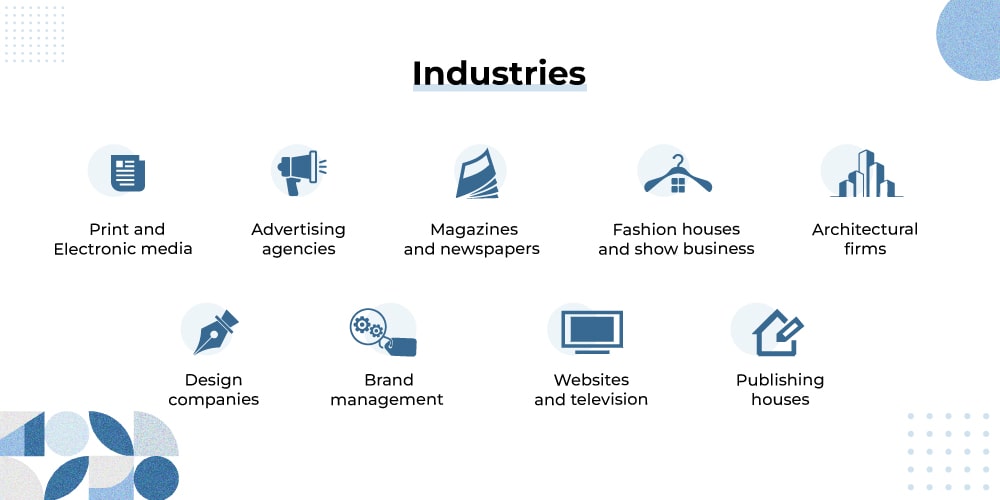 Architectural firms
Design companies
Brand management
Websites and television
Publishing houses
Internal overview of graphic designing
The queries and ideas that we discussed so far also have a viewpoint from our senior graphic designers here. Mr. Sajeev Sinha and Mr. Shubham Singh helped me understand the graphic designing world and dynamics. At the same time, they answered a few of the pressing questions:
How challenging is a graphic design career? Especially in today's context.
Mr. Sanjeev says,
"In today's scenario, people mislead themselves thinking designing is an easy task or a 10 min job.
There are multiple softwares where using presets and creating creatives seem like they are a designer. Which makes them an editor, not a designer.
The challenges then posed are:
Getting disrespected.
Staying hungry for other design disciplines.
Encouraging new talent to aspire to greatness.
Communicating the right idea to the client."
While Mr. Shubham chips in and says, "The only challenge is being creative out of the box and staying up to date with new and old design trends. Because AI is already here with its tools."
What keeps a designer going in this cut-throat competition of a graphic designing career?
Mr. Sanjeev was quick to suggest,
"Keeping oneself updated.
Out-of-the-box thinking.
Flexible with the ideation process.
And lastly, a study of consumer behavior."
Mr. Shubham had a lighter take saying, "It's the passion for the profession that keeps one going. While competition is always oneself because he or she has to better the craft they delivered before."
If you have to emphasize, how would you encourage the world to build a design community?
The subject is close to their hearts, once I asked this, both of them had holistic views where Mr. Shubham emphasized building connections and evolving with the learnings in that connected sphere.
Moreover, Mr. Sanjeev reiterated building a united community whose views and perspectives are respected. Third-party software mislead should have a unanimous voice. And lastly, he added "your ability, perspective, and mind make you a designer, don't let anyone convince you otherwise."
Do you feel the upcoming AI graphics could potentially harm designers? Why or why not?
On this, Mr. Shubham pitched, "AI is timed but fails to give the detailing of manual inputs. Something that can come out well with an actual designer."
And Mr. Sanjeev believes, "Yes it will, not to the designers now but the sub-fields like a digital and matte painting. Low-budget jobs might get affected. At the same time, designers of today will get replaced, but not the designers of tomorrow.
Further adding he says,
"AI is not emotionally equipped to understand behaviors or patterns. After all, UX (User Experience) is the main thing here.
Moreover, it fails to read the details of the creation, say a human face oftentimes. Which had several inputs from the company. (Many of them are not in a position to afford that)."
What keeps you going?
Mr. Sanjeev believes in interaction. With people and nature. Often he picks up his camera and brush to meditate the creative thinker.
Meanwhile, Mr. Shubham believes that the challenges at his workstation keep him going. They keep the curious mind alive.
The avenues to choose from for a designer? (Many newcomers might look for this answer)
Mr. Shubham helped us with certain fields like VFX, motion graphics, architecture, and logo design to name a few.
On the other end, Mr. Sanjeev highlighted
"India currently needs more than 62,000 designers for communication and promotional graphics, product design, and many more. Out of which only 7000 are qualified.
Industry-wise, we got
IT (Boom after the pandemic)
Gaming
Fashion industry
And all that Shubham mentioned"
He further added, "For a newcomer, he should be a Multidisciplinary designer- a single skill is not sufficient for today's scenario."
Penning down
We have covered a greater perspective with what we started. Furthermore, as we pen down our idea of a graphic design career, we hope the suggestions and discussions help your journey ahead.
Apart from that please feel free to connect with us. If you want to delve in further. All we wish for you is to experience what lies best in store.