What should you do as a social media manager?
The world has evolved for a social media manager now. With 31% people preferring to leave product/ service reviews over social media, it is a job that now turns more challenging than ever. Because customer service lies at the heart of it. And 70% of customers are already gearing up to approach businesses for customer-related questions now.
With internet and social media influx, new jobs may have sprout up but they are more demanding today. Especially for the social media team members and its managers. But worry not, we bring you some areas to focus or start with. To bring the best possible output. Here's all that we are going to cover on "what should you do as a social media manager?"
Who is a social media manager?
Social media manager is the core of the social media team. Who acts as the responsible head by undertaking duties of:
Monitoring
Measuring social media presence for a brand or corporation
Filtering the content
And executing the strategized plans.
While the roles expects them to act as the company's voice. They (or you) maintain brand promotions,
ideate it,
design digital marketing campaigns for different social media platforms. 
Reasons to hire a social media manager
Did you know 75% of people of age 18-26 make purchase decisions via their social media accounts? Imagine the hold this medium has now. Therefore, hiring a social media manager is a precursor to any brand's social media campaign success story.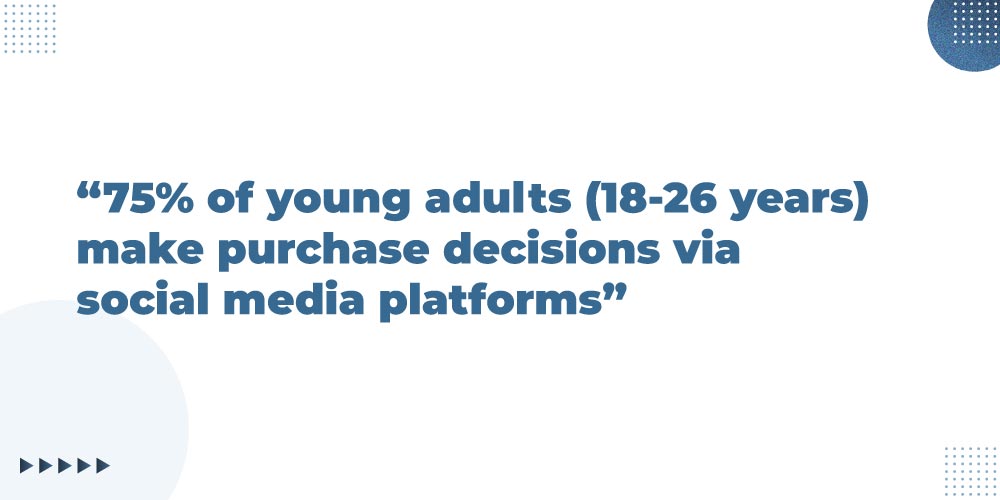 Moreover, to justify further, reasons like:
The online presence is found due to them
Keeps you in the competition
Helps in delivering quality customer service
While an organization preps up with its needs, brand, objective and scope of work to approach the social media manager.
Because they know, once a good resource gets onboarded, he/ she will be central in: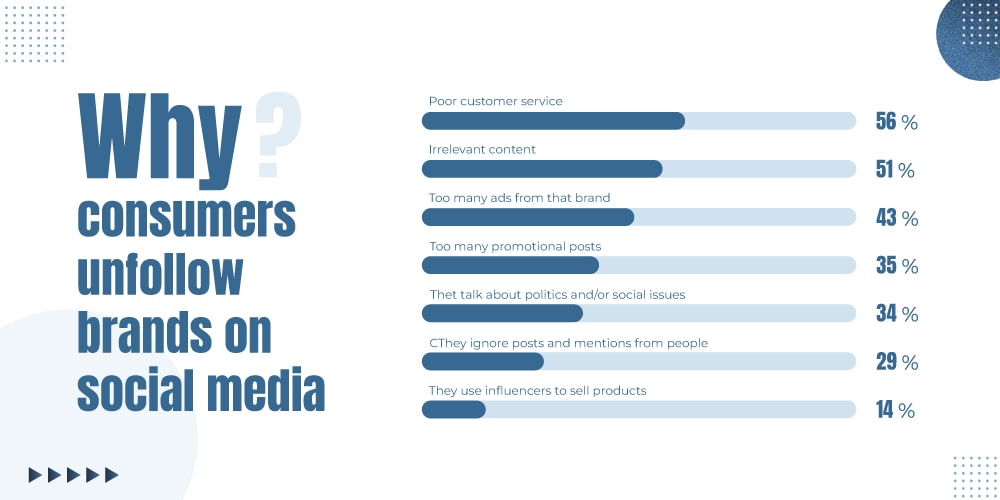 Business starts to thrive online
Leads and customers are generated
Both direct and indirect communication is enabled
Brand awareness soars high
Hence making you an invaluable asset for the company.
What is ICE score? How can a social media manager help determine it?
The need for you is evident. But the how of your task begins here. So we were reading on the ideas to understand the role. And that's when we stumbled upon this fascinating concept of ICE score.

Now what is it?
ICE score is developed by the CEO of GrowthHackers, Sean Ellis. Which stands for
I- Impact
C- Confidence
E- Ease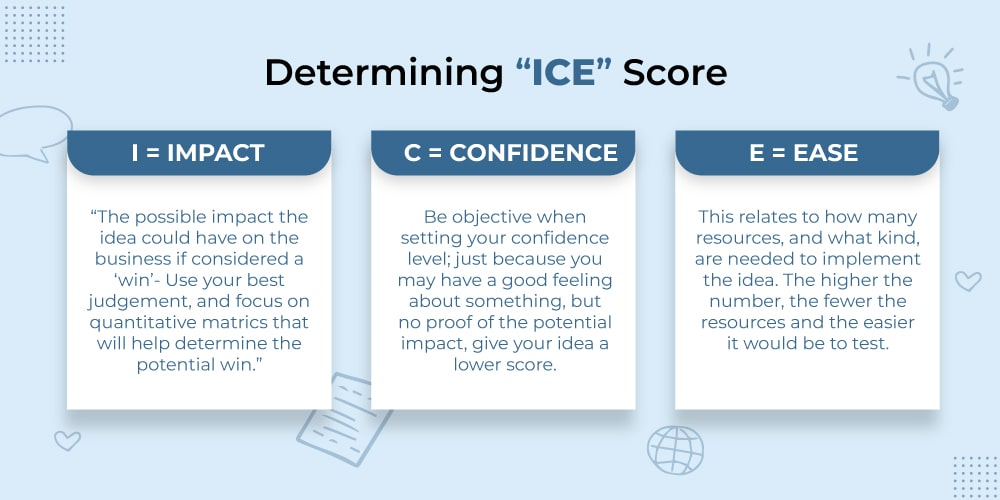 ICE score is an average of the three factors. Where a score from 1 to 10 is assigned to each of them. (1 = lowest, 10= highest)
So the average evaluation of each will lead you to an objective or goal.
For example, I consider writing blog post completion as an activity
My assigned score for each is: I=7, C=7, E=4
So my average will be 6. Which then helps me prioritize my activities in order.

Apart from ICE score for task prioritization. Another social media marketing idea is the 70/20/10 content rule. Made popular by Coca-Cola. Here's what it stands for: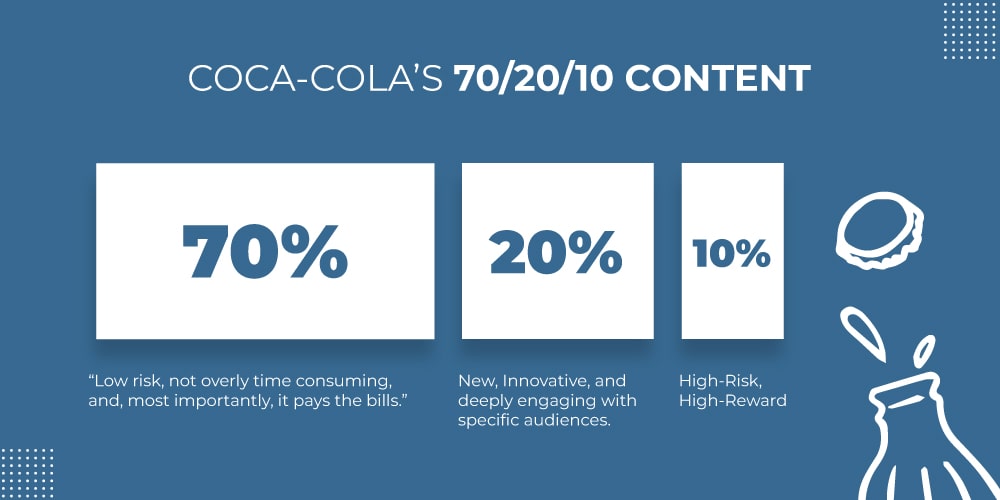 The image is self-explanatory. This indicates the activities that a social media manager takes involve
Moderate to high-impact content (For 70%)
New content that will later lead to visible ROI (For 20%)
High-risk and highly rewarding content (For 10%)
But the ICE score or 70/20/10 content idea doesn't happen overnight. This is where you, as a good social media manager step up. And work across
Marketing Strategy building for social media posts (with smaller objectives of awareness, engagement, CTA, and much more)
Content creation (including multimedia and text-based)
Engagement with the audience
Identifying potential content differences and either opting for new or removing redundant work.
Scheduling the proposed plan for execution
Measuring the results of the undertaken activities
Be an active listener
Experiment in the domain (as stated in the 20% strata)
Learn and help over time to customers and teammates
Only when you indulge in the above-mentioned can the ICE be achieved.
Best social media platforms for social media marketing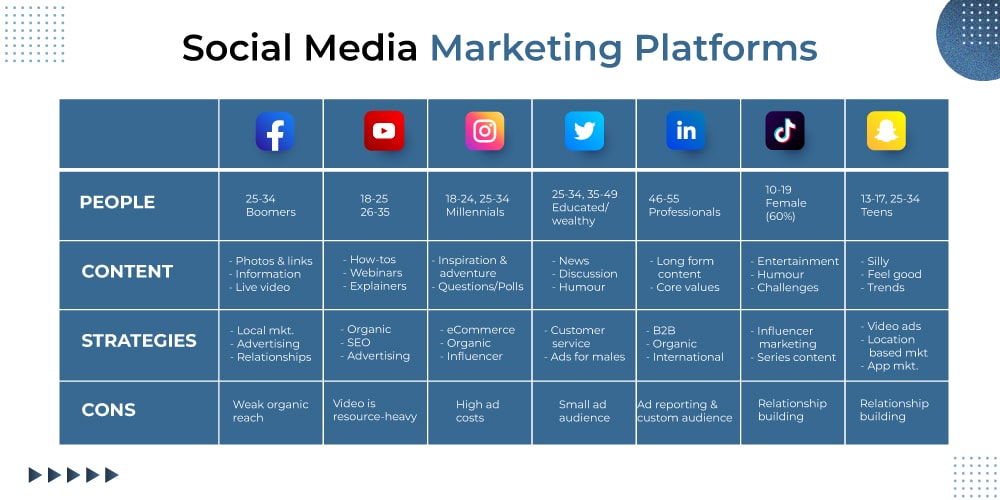 Social media is an umbrella hosting a plethora of sites. To align your social media plans, you need social media platforms. Platforms where your audience lies. The best of which is highlighted here. Along with the demographics and types of content that works here.
The mentioned platforms are considered the best because there are reasons.

Facebook
Is a platform of masses. And now predominantly for baby boomers. So make use of the reach.
Instagram
Is the best place for highlighting user-generated content, influencer marketing, and company culture.
YouTube
Is the best place for boosting your SERP, because videos! And with livestream shoppable videos, advertisements and explainer videos. This is a must-venture platform.
LinkedIn
Is the most suited place for networking, sharing industry insights and important achievements. Most importantly, finding new talent.
Learn the importance of linkedIn here.
Twitter
Comes handy for tackling customer issues and following trends.
Snapchat
Is a place of location-based marketing. Where feel good content is more locally focused.
TikTok
The platform may not be available in India anymore. But is running around elsewhere. So you can still use it to get the audience nerve and relate with them better.
Social media metrics to focus on
By now we all how crucially social media helps us in:
Discovering trends and ideas
Brings attention on your work
Deeply connects with new and existing audience
Builds and enhances your brand
Since these are the major attributes everyone is seeking. Measuring them with insightful metrics is important. Which will convey the success of your activities.
These are namely:
Engagement: Measured with the number of likes, shares, clicks, comments, and account mentions.
Awareness: Measured with the amount of impressions (the number of times it appears on the timeline) and reach (unique viewers for the post)
ROI: Measured with referrals (how a user reaches your website), conversions (the purchase made by the user from your site), and CTRs (click-through rate). Where a number of CTRs are used today including:

Buttons and email links
Social media ads and PPC ads
Links over the landing page or elements of the site.
Customer care: Measured with the quickness of response and time for which the query gets resolved.
Honestly, this is a bird's eye perspective. Handling the complete metrics section is a talk for further discussion.
You are needed in IT too!
Find out how
What are the tools for social media management?
These tools vary as per your business size and needs. The best of fit is for you to understand and decide.
Also please note that these tools are for social media management, that suits you. There's no order but only a glimpse as to what is available now. Here are some with their unique features that are unmissable.
Buffer: For small-size businesses to drive engagement and results.
Sprout Social: Has customer relationship management features.
Hootsuite: For bulk scheduling to managing everything from a single platform.
Sendible: Helps agencies that handle multiple clients.
Agora Pulse: This one lets you manage, schedule, and respond, and had reporting features. All are made affordable.
Social pilot: Helps in finding relevant content across data from various industries.
CoSchedule: For those who believe in organizing all of their project content in one space.
eClincher: Enabling auto-posting of posts and helps you find social media influencers.
MeetEdgar: For heavy-duty tasks. It is the auto-pilot helping in smart automation and scheduling over all the socials.
Mavsocial: With this, you can edit, use and manage the multimedia content that needs to posted. While also search from a search engine for stocks.
SocialBee: Lets you recycle your content and brings more leads.
But this list is expandable because a lot of other tools are available too. The one shared here was from the best of our understanding. For doubts or queries you can always connect with us.
In Conclusion
We would say, this was a sincere attempt in giving an overview for 'What should you do as a social media manager.' Of course, there are multitude's of things in brand awareness, engagement building and strategizing alone. And a lot more specializations in the current designation of discussion.
As a Social Media Manager, there's always a lot to do and deliver. But streamlining the approach is more crucial than carrying on with the monotony. We have tried to bring you as close as possible to the idea and ways of conduct. There is always room for more, thus the scope of this one blog post limits us to the core glance.
If you have any questions or queries to address. Please connect with us at the earliest. We will be happy to help.