Celebrating goodwill with Blood Donation Day
Blood donation saves lives. Every year, every day, every moment, millions need blood. But imagine all of this discussion wouldn't be taking place if in 1628 William Harvey didn't discover the circulation of human blood! And thanks to his stepping stones, 200 years later, human blood transfusion was achieved by Philip Syng Physick. But the silver lining came in 1901 when Karl Landsteiner discovered the ABO blood group system. On whose birth anniversary every year, 14th June is celebrated as Blood Donation Day.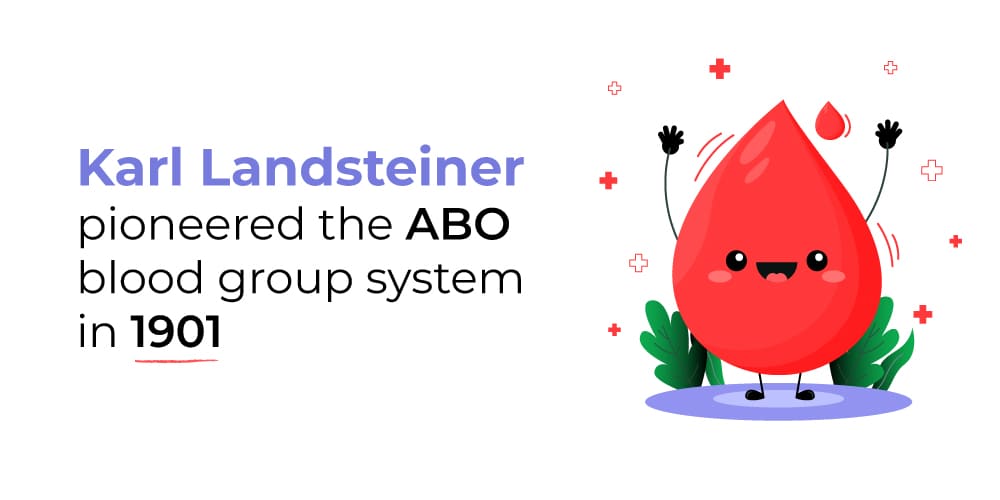 World blood donor day is an initiation by World Health Organization. Where every year's celebration aims at raising awareness about the need for safe blood transfusion. While also recognizing the efforts of unpaid donors and blood donor organizations. This year, we at CEDCOSS also pledged to join this force of donors. But before we dive into how we commemorated the day, let's learn more about blood donation.
Why blood donation?
Blood has a minimal shelf life. Once it is out of your body, storing and safekeeping the blood becomes difficult. And after some time, it does become unusable. That is why a constant supply of blood has to be ensured. Since hospitals handle a range of emergencies and regular cases that require frequent blood supply.
Hence, as a community stepping up for this life saving cause becomes essential.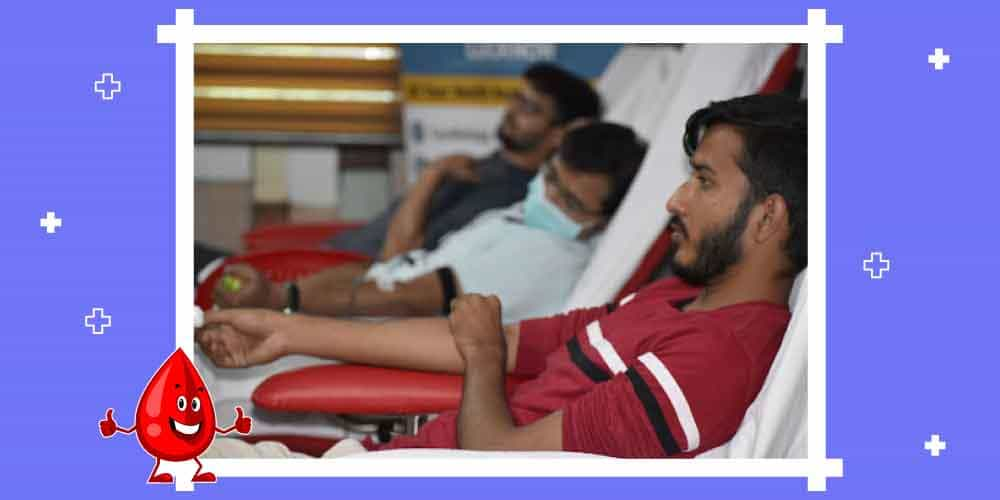 The need for Blood Donation
Every 2 seconds, someone needs blood. This makes it all the more necessary for us to identify the need among the target group for timely access to safe blood via blood donation.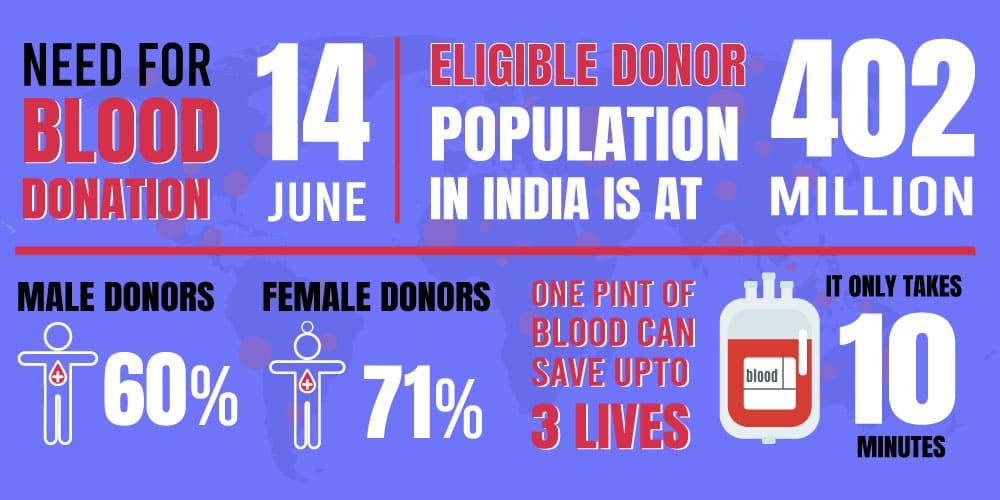 We believe that accidental cases require it the most, but that's not it.
We have:
Cancer patients
Orthopedic patients post and during surgery
Heart ailment surgeries
Patients with blood disorders
Burn patients
Sickle cell patients
Since the need for blood supply is always there. Being a blood donor in such cases can help us save the lives of many. And that's why we did our bit.
Our mission this blood donation day
As an organization, we always put our best foot forward in our core working domain. But that's not all we intend to do. Our very name holds 'community' (Community Engaged in Development and Customization of Open Source Software) and giving back to that is as essential as any professional undertaking. Luckily, our community has been fortunate to have people who understand this mission. And participate wholeheartedly.
The blood donation drive was a part of that mission, where we want to give back to the community that lets us thrive. Actively or passively, a genuine act of goodwill has helped us all, in some way or other.
 If we are able to run the show it's because we have been fortunate to do so. Then why not use all that's in our power to see the picture beyond our limits? We understood this essence. And made it a point for this day to celebrate the goodwill, that's everyone's share.
Stepping up for blood donation day
The need for blood donation has always been visible to CEDCOSS. Apart from doing it on a regular basis. We decided to pull off mass voluntary blood donation. Specifically on a day that raises mass awareness. That's why we chose blood donation day.
An exciting bunch of 60+ people from our CEDCOSS community stepped in for the day. While many more were in the queue, but to time constraints, and the medical team being packed for the day. This was all from CEDCOSS. We enabled the blood donation drive with the help of expert staff from Apollo Medics Hospitals. Who took all the right precautions. And shared with us the post-blood donation care.
From our Director to our first employees, the lot was an absolute CEDCOSS mix for the day.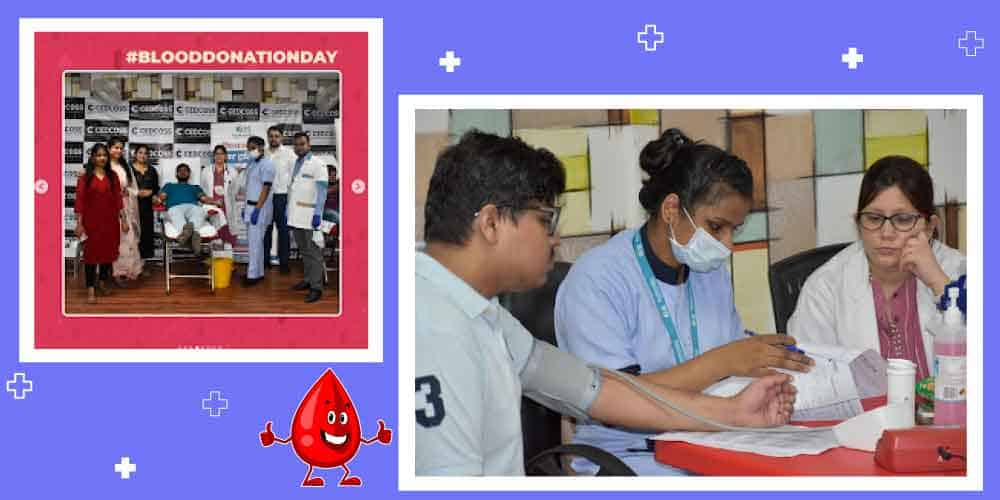 To capsule the day in a few words, our colleague, Srijan Jaiswal, recounts it, saying,
"The blood of all humans is what holds them together, regardless of where they come from. As a result, creating more blood relations will do more good than harm.
COVID-19 distanced us so much that we could do nothing more than pray for the known and unknown. And once things got back to normal in 2022, we decided to convert prayers into actions because if you know, you could save someone's life within 15 minutes, why not do it? Our corporate family embraced our DONATION DRIVE idea wholeheartedly, and the energy level and excitement were evident on the day of the event.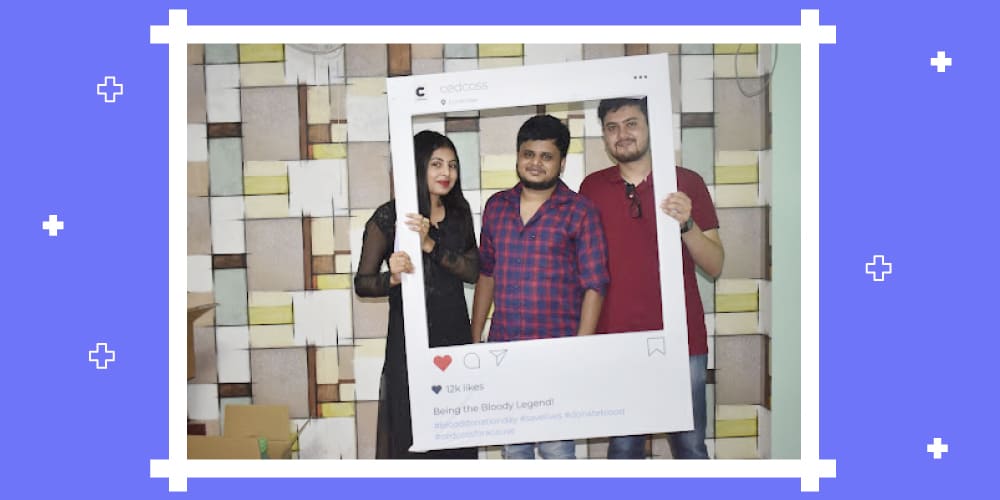 In all fairness, I was not surprised since Cedcossians have always shown their zeal when CEDCOSS stands for a cause."
Not to forget, we spread the word with a slogan that resonated with everyone alike.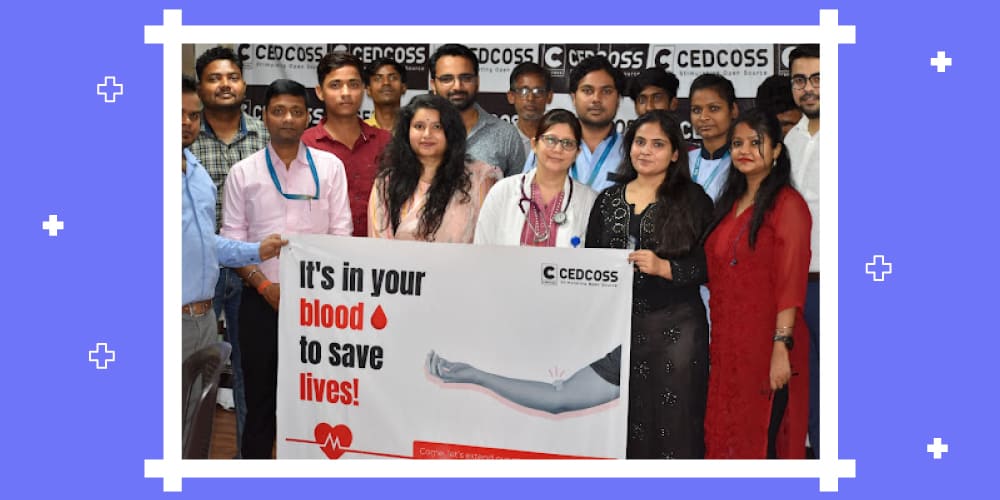 We informed all our colleagues about the same a week before. Plus, all these participants came up voluntarily! In addition, we received an honorary mention by Hindustan and The Tribune(Lucknow) in their newspapers.
Moreover, we captured the happy blood donors and shared some delightful goodies as a token of appreciation.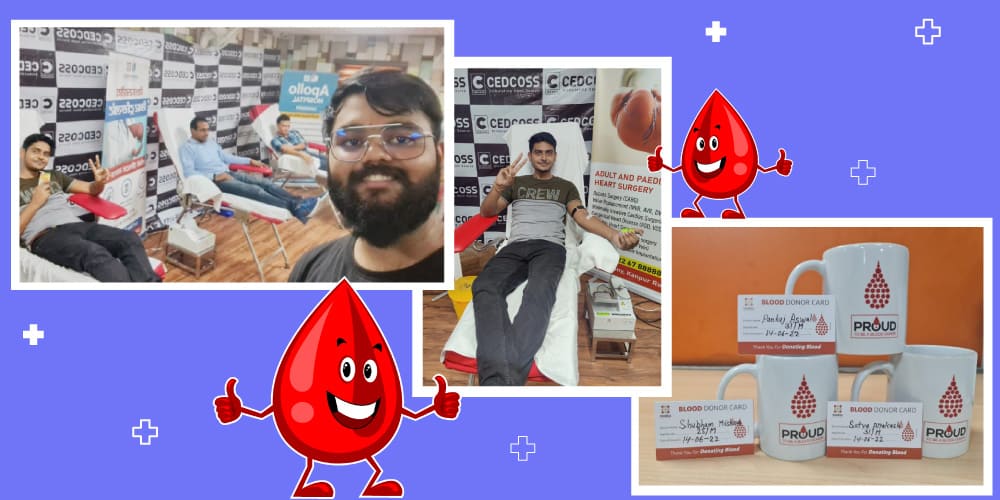 While our team came forward on the day. We ensured that we learned all the right things about the blood donation process, its types, and essential tips.
Elucidating more on this CEDCOSS corporate responsibility
CEDCOSS pledges to take strides in the direction of fulfilling these social responsibilities. We have been taking small but important steps in this line of thought for quite some time now. Be it standing for the right cause, where we undertook the responsibility of ensuring empowered women staff by taking the calls for their health. Or sharing joys in small pockets with the often emotionally neglected. We are doing what we can.
And we don't wish to stop here. We want to participate more, do more and learn better. Because there is so much out there that needs to be done. We may not be able to do it all but if a fraction of it improves, then we will find our duties well done.
Since this drive was aimed at responsible blood donation, here's us leaving you with a very important piece of information on who can and who cannot donate blood.
Requirements for blood donation
Not all of us are equally eligible to donate blood. We learned the difference between who can and who cannot donate blood. Here's looking at the differentiation.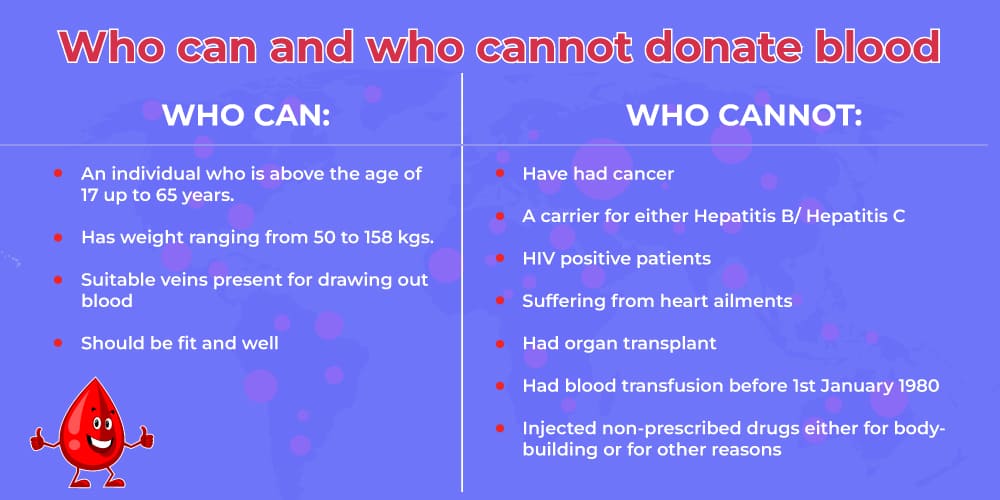 Who can:
An individual who is above the age of 17 up to 65 years.
Has weight ranging from 50 to 158 kgs.
Suitable veins present for drawing out blood
Should be fit and well
Who cannot:
Have had cancer
A carrier for either Hepatitis B/ Hepatitis C
HIV positive patients
Suffering from heart ailments
Had organ transplant
Had blood transfusion before 1st January 1980
Injected non-prescribed drugs either for body-building or for other reasons
Note: This information is to spread the word. So share and get aware.
Penning down
So yes, we did celebrate goodwill this blood donation day. We also made it a point to raise awareness rightfully and encourage regular blood donors. Good health and prosperity are everyone's share. If a small effort contributes to the greater good, then there's no harm.
We have been fortunate to contribute to this act. Many a time, we have colleagues raising urgent requirements for blood donation. And we have done all we could then. Seeing the need at all times, doing this drive on a memorable day helped us spread the word beyond our reach. Taking this initiative was also a reflection of our bonds and solidarity. Besides, we are genuinely grateful to Apollo Medics Hospitals and our entire CEDCOSS family to make this initiative a great success.